How to make the Japandi trend work in your home
Tips and tricks for embracing one of the leading home décor crazes of 2021.
This feature may include affiliate links, from which we earn a commission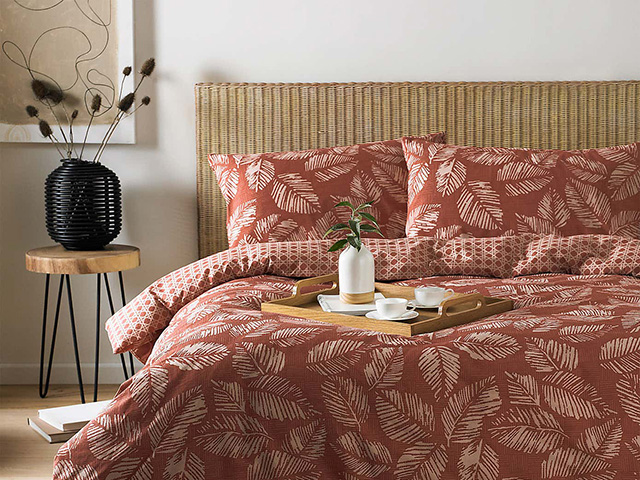 Image: Riva Japandi Bedding, Dunelm
A hybrid of Japanese and Scandinavian style, the Japandi trend is on the rise, with Pinterest searches for this modern home decor trend increasing by 100% in the past year.
United by minimalism, Japandi is the harmonious marriage of Scandinavian cosiness and clean lines, with the elegant simplicity of the typically nature-focused elements of Japanese design.
All about evoking warmth and peace in your home environment, this trend – albeit timeless – feels particularly appropriate for the present moment. Here's how to go about curating your very own zen den.
Curate – don't clutter
Head of Design at Christy, Lucy Ackroyd, says: 'Combining the content and cosy feel of Scandinavain hygge, with the Japanese foundations of feng shui and minimalism, this trend strikes the perfect balance between cosy, home comforts and fresh, modern style.'
It's crucial to consider the purpose of your pieces, so when choosing furniture, embrace the simple, utilitarian nature of Scandinavian style, combined with the focus on elegant but understated craftsmanship found in Japanese culture.
Embrace neutrals and nature
Image: Franco Side Table, Dunelm
When choosing your colour palette, opt for mostly muted tones, and focus on natural materials such as unfinished woods, bamboo pieces and hints of rattan.
Lucy adds: 'This trend feels very relevant again now, as we all need to bring some calm and mindfulness into our immediate environment. There's no better time than a new year to focus on carving out a little slice of zen for ourselves  as we head towards the spring.'
Be meaningful with the addition of any brighter colours, and opt for botanical and nature-focused patterns that evoke a sense of peace and calm.
Be intentional with textures
Image: Urbis Bed Linen Platinum, Christy
Juxtapose simplistic and elegant furniture choices with the cosy nature of Scandi 'hygge' culture by layering softer pieces, such as cushions, throws, and rugs. This variance in texture wouldn't be found in typical Japanese decor, but is a crucial element of the mindful Japandi style.
Lucy adds: 'Contrast is a key element of this trend, try mixing a simple Japanese-style bed in a light wood, with bountiful throw pillows and cosy blankets to combine these two styles in a 2021-appropriate way.'
Do you love the Japandi trend? Let us know! Tweet us @goodhomesmag or post a comment on our Facebook page. 
RELATED ARTICLES
Tags: Green