Your home-buyer style according to your star sign
From the home buying process to the style of your interiors, your star sign can tell you a lot about your ideal home. We reveal what's in store for your zodiac…
Image: John Lewis
Our star signs can tell us a lot about our lives, from our romantic compatibilities to our careers, so it's no surprise that it can demonstrate our home tastes. Bankrate UK undertook a survey of 2,000 homeowners and teamed up with astrologist Sally Kirkman to analyse them and reveal the results, scroll down to find yours!
Aries
Image: Gazco
Impulsive and impatient, you will be desperate to beat the competition and get your offer in first and enjoy doing it. The Aries will thrive on getting a higher offer and 'winning' the home of their dreams in a bidding war, even if that means stretching their budget. Their keen attitude to get on with the process could also lead to conflict with slower parts of the process, such as solicitors or estate agents.
Design wise, Aries wants a cosy yet sociable space, so a big garden and plenty of free indoor areas are vital to avoid feelings of claustrophobia. They tend to be minimalist in style so avoid ornaments or things that could be knocked over during gatherings, and love special features such as open fireplaces that make a space extra-special for the all-important entertaining aspect of being a home-owner. This also means the property you choose is likely to be close to friends and family, as well as bars and restaurants to keep the social buzz going.
Taurus
Image: Hornsby
In contrast, the Taurus is more of a thinker and must have his or her head and heart in agreement in order to proceed with a property. You want to make a sound investment for the future, and while you're happy to pay for quality, also want to ensure there are minimal risks involved. You're happy to view many properties before selecting the right one and while complications can be a pain, you will tackle them head on for the right home.
When it comes to the decorating, Taurus likes natural or rustic themes with soft fabrics and a home that appears lived in rather than a show home. Many of you will also be green-fingered, so enjoy having a garden or green space to be close to nature. The Taurus can be lazy however, so appealing properties are often close to public transport, shops and work for their convenience.
Gemini
Just like everything in life, the Gemini will approach the home-buying process with a can do attitude, knowing their own mind so are happy to stick with their decision. As masters of negotiation they love the process of buying and selling a home, and will work fast to secure the place they desire.
A sociable Gemini will love properties in the heart of the city so apartments and central locations usually win out of outdoor spaces. While you won't have a particular interior style, you'll enjoy mixing and matching furniture and will love changing things around and redecorating as often as you are able.
Cancer
Image: John Lewis
As with everything the Cancer will be led by their heart, favouring the feelings they get in a home over any financial constraints. Once they have found 'the one' they will fight to secure it and do whatever it takes to keep hold of it. Once they've secured it, Cancer will often put down roots and create a forever home rather than searching for their next property.
Bright whites and silver colours will connect you with your intuitions, and you will also lean towards Scandi style to help you create a harmonious environment in your abode.
Read more: 5 top tips for creating a Scandi look on a budget
Leo
Image: Kindred Unity
Confident in their tastes, Leo's often take the lead when property hunting with a partner. Their determination means they will try to secure the home of their choice at all costs so if you're bidding against a Leo, do so with caution! While Leo's are known to be impulsive, they push against this during home purchasing and will be on the side of caution ahead of financial commitments.
A Leo's high quality taste extends to the inside of their home, too, and they love flashy and extravagant items. You will love nothing more than having your home admired by friends and family.
Virgo
Favouring routine ands security, a Virgo will usually choose a property close to family or in a location they are very familiar with. You can be rather picky when it comes to selecting a home, but will do plenty of research to ensure the place it right for you. It's very rare that Virgo will act on impulse, as you much prefer weighing everything up and checking the facts before committing.
Virgo's are often known for their DIY skills, as your perfectionist attitude means you're the only one capable of doing the job to the high standard you'd like. Matching furniture and co-ordinated styles are key for you and organisation is at the heart of your home, relying on Pinterest for inspiration.
Read more: Pinterest reveals interior trend predictions for 2021
Libra
The Libra can be tricky to look for a house with, as you can discard a property even if it just fails to hit one of your requirements. However, once you've found something that ticks all of your boxes you'll be happy to use your charm to secure the property for less than the asking price. Your imagination means you are often looking for a 'project' in a new home, more so than any other star sign. As the sign of peace and harmony, you will prefer properties in quiet locations and want to make the best decision for your family, meaning having good schools nearby is a priority.
The inside of a Libra's home will reflect your love of art and design, but you'll lean towards subtle, pale colours on the walls. Balance and symmetry are also key for you across your home, so it's no surprise that famous tidier, Marie Kondo is a Libra.
Read more: Marie Kondo's top tips on decluttering, tidying and hoarding
Scorpio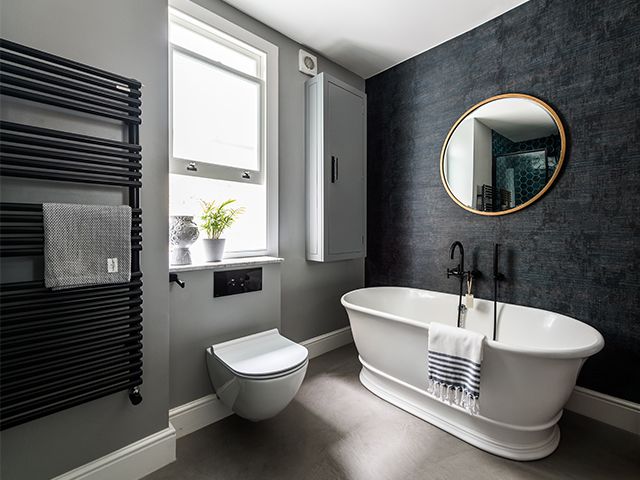 Image: Day True
Determined as they come, Scorpio are meticulous in their research and are likely to say exactly what they think when viewing properties – estate agents be warned! Your financial instincts mean you know the best times to buy and sell properties and are always likely to secure the best deals on houses. In fact, Scorpio is the sign most likely to make a secret bid to outdo their competitors, but is also very unlikely to overspend.
You love to make a stamp on a property, so it's likely you will transform the decor into your own style after moving in. Privacy is key to the Scorpio, so you will often like a space or den of their own inside a house. Dark and statement colours are popular amongst the sign and you prefer a minimalist look to any clutter.
Sagittarius
Image: John Lewis
Always confident in decisions, Sagittarius are happy to take risks if it means getting what you want. The sign most likely to overspend on a property, this means you are willing to do what it takes to secure your dream home.
As a free spirit, Sagittarius views homes as somewhere to socialise and spend time with friends, so love to share their property with others. Your interior style reflects this, too, with items from travels adorning the walls which are often bold statement colours such as purple.
Capricorn
The planner of the zodiac always has one eye on the future. Capricorn's are likely to be practical and responsible with their investments and usually do very well. Your forward-planning makes you the easiest buyers to please, as you're confident with what you're after from the outset.
Capricorn's often have a good eye for design so are most likely to have an insta-worthy home. You tend to opt for a traditional layout, favouring antique furniture and items that have been passed down through your family to modern furnishings, and darker colours rather than bright open spaces.
Aquarius
Image: thejoyofplants.co.uk
There are two different types of Aquarius when it comes to house buying. The first tends to view the process as serious, so approach it with a structured and organised attitude, whereas the second is more eccentric and is more likely to act on a spur of the moment decision. Both types will value properties that have a nice garden, and will use imagination to consider each property.
Aquarius is the sign most likely to care about sustainability and being an eco-friendly homeowner, too, and will often spend lots of time growing vegetables or if living in a flat, get their own community allotment spot. Your style can be considered as retro, and you'll prefer to use modern materials in your home.
Read more: 10 of the biggest garden design trends for 2021
Pisces
Pisces will proceed with caution when searching for a home, viewing multiple places before making a final decision. You can be easily overwhelmed with the process, so it's important to ensure you get advice from experts along the way.
Pisces love homes by the sea or in the countryside, and you will love filling your home with plants, books and music to feed your soul. With a real eye for design, Pisces decor reflects their stunning imagination, but they will shy away from homes which need too much work.
Is your star sign accurate to your home style? Tweet us @goodhomesmag or post a comment on our Facebook page.

RELATED ARTICLES