How to create a cosy garden seating area
April 14, 2020
Enjoy spending time in your garden by creating a cosy and stylish outdoor seating area.
Image: Garden Trading
Get your garden ready for summer, whether just for you or for when you can invite family and friends over for a barbecue by pulling together a cosy seating space outside.
Get a fire pit table
Image: Solus Decor 
Make a statement in your garden with a fire pit table. Not only do they look fabulous but they'll provide warmth and ambience  in your garden when the evening starts to get a bit chilly. Solus Decor stock a wide variety of different and unique designs that'll bring a special something to your seating area.
Think about lighting
Image: Lights4Fun
Cosiness isn't just for wintertime, you can create a cosy atmosphere outdoors in summer too. A big part of this is your choice of lighting. This Lights4Fun garden lighting will make your space feel warm and inviting – festoon lights, LED candles and garden spot lighting are just a few of our favourites.
Alternative seating
Image: Garden Trading
Be creative with your choice of seating to mix things up. Invest in a hanging chair like this Hampstead egg design from Cox & Cox. Can you imagine anything more cosy than curling up in this with a book and a glass of your favourite tipple?
Style it up with accessories
Image: Lights4Fun
An important part of creating an inviting space is styling it up with accessories to make your seating area feel homely. Take inspiration from the above set-up from Lights4Fun and opt for an outdoor rug, lots of cushions and throws and oversized lanterns to create a relaxed, bohemian feel.
Decorate with plants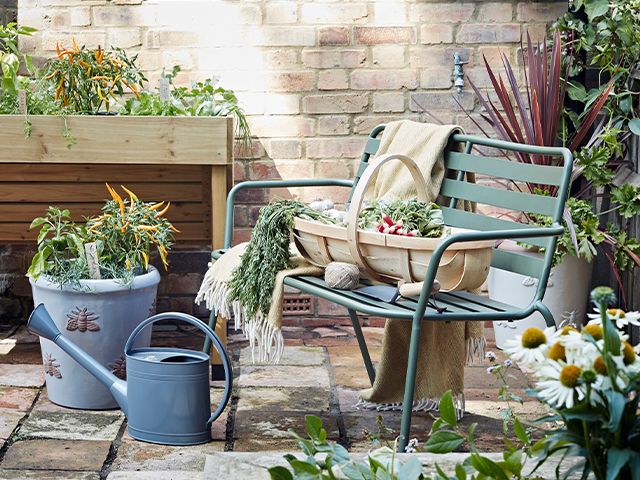 Image: Dobbies
When it comes to decorating with plants, don't forget about your garden seating area. You may have nailed your garden border, but make sure to style up your seating space with lots of lovely greenery to make it feel at one with the rest of your outdoor space.
Do you have a cosy garden seating area? Show us and let us know on social! Tweet us @goodhomesmag, post a comment on our Facebook page or tag us on Instagram @goodhomesmag! 
RELATED ARTICLES