6 stylish al fresco dining ideas
Eat al fresco this spring and create an inspiring outdoor dining space. Here are a few looks that we love this season.
Image: Next
One of the joys of spring and summer is being able to spend more quality time in the garden. Whether you are planning summer barbecues or hosting family and friends for a bite to eat, dining al fresco is definitely a simple pleasure.
With that in mind, we've picked 6 fresh outdoor dining looks to inspire your own space.
Bold and bright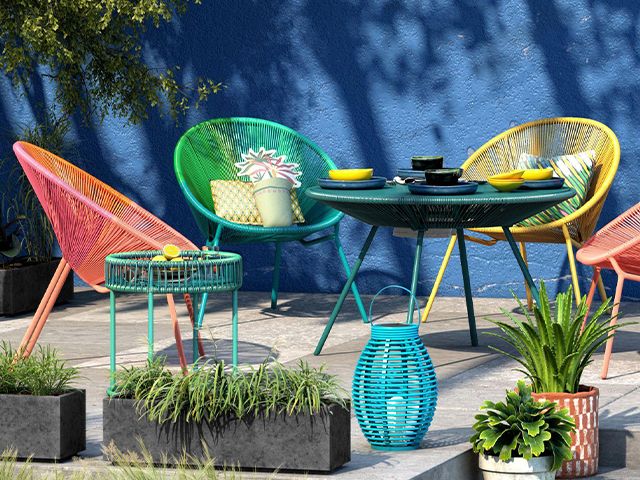 Image: John Lewis & Partners 
In the UK, we only have a few months of the year where we can spend time enjoying our outdoor space, so this is a good excuse to go for a bold garden look. Be inspired by John Lewis & Partners and pick up rainbow garden furniture and pair with funky patterned cushions.
Stylish comfort
Image: Next
If you prefer something a little more sophsticated, then traditional rattan garden furniture could be the way forward. Dining al fresco can be fun and informal so a sofa and a couple of armchairs are ideal. Invest in a garden coffee table to put food on so friends and family can leisurely pick at your buffet.
Coastal-inspired
Image: Sainsbury's
Take inspiration from nautical schemes and implement this into your al fresco set-up. Lighter wood is a great choice as it mimics the look of beechwood, reminiscent of being by the coast.
You could also invest in a outdoor dinner set that you can bring out at gatherings and accessorise with fun nautical motifs.
Festival-style dining
Image: Lights4fun
Festivals are one of the many joys of summer and you can bring this fun and informal vibe to your own back garden. Pick up some festoon lights to hang above your outdoor dining area and keep things mixed and matched for an effortless feel. Decorate your al fresco table with bunches of wild flowers and colourful accessories.
Totally tropical
Image: Argos
Get in the tropical spirit and opt for lots of colour for your new al fresco dining scheme. Choose cushions that are printed with fruit or palm leaves for that unapologetic tropical spirit. Decorate the area with lots of plants and an outdoor rug will make your space feel ultra cosy.
Outdoor boho
Image: Made
For a more sociable al fresco experience, opt for a circular table and comfy dining chairs that will offer comfort and support. Boho looks lend themselves to lots of texture and a neutral colour palette. In terms of dinnerware, anything rustic or 'unfinished' will work a treat – and the same goes for glassware.
Are you planning to transform your outdoor dining area? Let us know on social! Tweet us @goodhomesmag or post a comment on our Facebook page.
RELATED ARTICLES