Take a glimpse at the new Soho Home x Anthropologie collection
September 3, 2019
Warning: lust-worthy interiors below!
Nothing says luxurious glamour quite like Soho Home and lucky for us they have just launched their collaboration with Anthropologie, which we can't wait to get our hands on. There's a whole load of gold and velvet, need we say anymore?
Image: Soho Home x Anthropologie 
Soho Home x Anthropologie have released 30 homeware pieces starting from just £8. The collaboration takes inspiration from both 40 Greek Street, Soho House's original location, as well as the more recently opened Barcelona Soho House. The grandeaur of both locations is definitely evident in the collection, with carved decorative edges and opulent accessories.
It's so hard to pick just one showstopper from the collection, as each piece has a heavy dose of wow-factor! Take a look for yourself…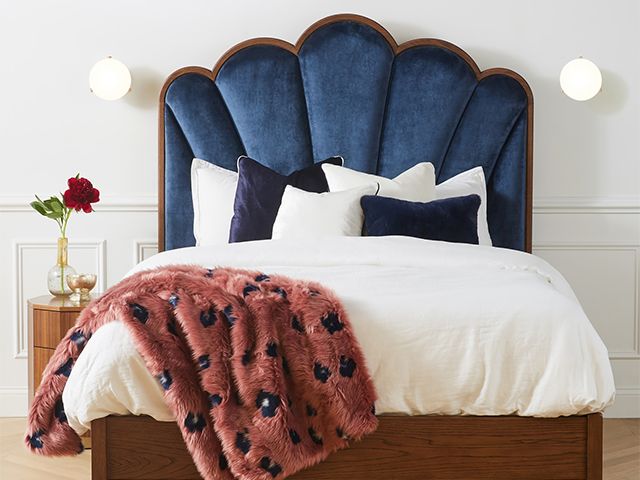 Image: Soho Home x Anthropologie 
We're pretty sure that this amazing upholstered velvet bed speaks for itself – but let us tell you more! Crafted from solid oak and with an Art Deco-inspired headboard, this bed is sure to be the focal point of any bedroom.
Image: Soho Home x Anthropologie 
A grown-up take on the ever-popular palm tree light. This design features feathered accents and six globe shades. We can imagine this taking centre stage in any Art Deco-inspired living space.
Image: Soho Home x Anthropologie 
Darker wood is back in town and we definitely approve. This stylish side table has bundles of vintage charm and is finished with a mirrored top and gold leg tips. Use as a side table or bag a pair and use as bedside tables.
Image: Soho Home x Anthropologie
Foot stools and poufs are often overlooked, however we think they're a staple of any home. This velvet Adriana design is available in multiple colours and adds a touch of 1920s glamour. We love the idea of having it as a vanity stool, paired with Art Deco-inspired furniture.
Image: Soho Home x Anthropologie
The perfect mix of contemporary and retro, the Augustus chair boasts a fun geometric print and retro curved design.
Image: Soho Home x Anthropologie
As well as statement furniture and striking lighting, the new collection also features some amazing glassware. This Barcelona pitcher set is the perfect companion when hosting a dinner party. The smoke-effect glass creates drama and looks extremely luxurious.
Image: Soho Home x Anthropologie
Circular mirrors are all the rage and the beaded wooden frame on this Harrison design makes it truly stand out!
Image: Soho Home x Anthropologie
If you love this floor lamp as much as we do, it also comes in a table version!
Discover the rest of the collection at Anthropologie and Soho Home NOW!
Let us know your opinions on the new Soho Home x Anthropologie collection? Tweet us @goodhomesmag or post a comment on our Facebook page. Also, be sure to share your Art Deco spaces on Instagram, using the hashtag #thisgoodhome for your chance to be featured in our print magazine.
RELATED ARTICLES