Grab tickets to shop IKEA x Virgil Abloh collection
October 9, 2019
This November, the highly anticipated IKEA x Virgil Abloh collection launches in selected stores. We're so excited that we got a sneak peek of some of the most coveted pieces.
Image: IKEA x Virgil Abloh
In November 2019 – as part of IKEA's fantastic plethora of collaborations – IKEA's highly-anticipated collaboration with Virgil Abloh will hit IKEA stores, working with the world-renowned designer to create a collection of products that help young people make a statement in their first homes.
Together they've developed their own take on a series of everyday objects, from clocks to chairs, building on their classic minimalist design with artistic references and deconstructive elements, exploring how contemporary visual culture can affect design.
Clotilde Passalacqua, Interior Design Leader from IKEA UK and Ireland says:
"The new MARKERAD collection is ideal for millennials seeking fashion-forward homewares. From the slogan "Temporary" wall clock featuring a sleek white-on-white design, to the green high pile "Wet Grass" rug designed to emulate grass, this collection offers accessible and affordable statement interiors for metropolitan homes."
"For a truly showstopping effect, bend the rules a little by hanging the "Receipt" rug from your wall to create a piece of wall art that exudes both texture and pattern."
"The MARKERAD collection offers plenty of unexpected surprises that turn everyday objects into design icons, such as oversized labels on the textile products and a doorstop attached to the leg of a chair. For young people looking to add an instant touch of cool to their space, this collection certainly hits the mark."
News alert: Due to unprecedented demand, IKEA has announced that fans hoping to get their hands on MARKERAD will have to sign up for a limited number of tickets via Eventbrite at 10am on 18th October 2019 via this IKEA link.
Fans who secure a place at their chosen participating store (IKEA Dublin, Croydon and Wembley) can then purchase up to five pieces from the collection when they visit on their allocated day on 1st, 2nd or 3rd November. Access will be granted on a first-come, first-served basis.
We've picked our favourites from the collection so you can make sure you pounce quickly to bag these coveted pieces.
"Wet Grass" rug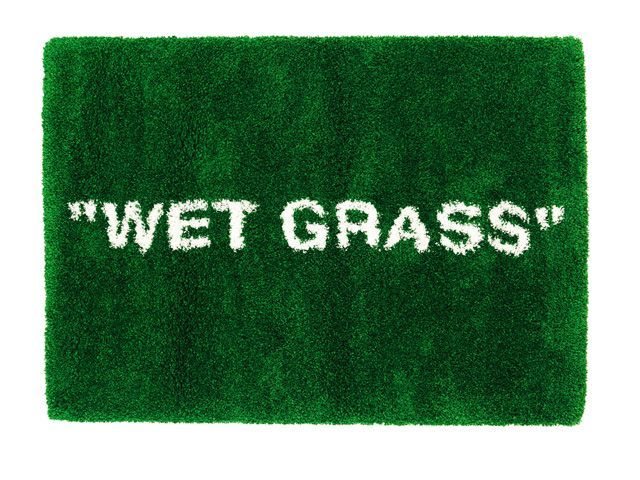 Image: IKEA x Virgil Abloh 
Looking just like grass, this high pile rug will inject some serious quirk into any living space.
"Temporary" clock
Image: IKEA x Virgil Abloh 
If you ever wanted a reminder that time is precious, this clock with the slogan 'temporary' will help you live in the moment and sieze that day.
MARKERAD clock, £25 
Receipt rug
Image: IKEA x Virgil Abloh 
Make a bold statement with this massive IKEA receipt rug – a definite conversation starter.
"Sculpture" shopper bag
Image: IKEA x Virgil Abloh 
The iconic IKEA shopper bag has been given an artsy revamp with a design-led slogan and brown paper bag shape.
MARKERAD Bag, £12
Image: IKEA x Virgil Abloh 

If some of the other items in the collection are just too darn quirky, we recommend the soft bedding range, that has a more subtle nod to the Virgil Abloh collaboration.
Mona Lisa backlit artwork
Image: IKEA x Virgil Abloh
Ever wanted but couldn't afford a classic piece of art in your living space? You're in luck then with this backlit Mona Lisa artwork; illuminated so you can really take in her beauty.
Virgil Abloh and IKEA's MARKERAD collection launches beginning of November 2019, with prices starting from £12, right up to £250. 
Which standout piece from the collection will you be buying? Let us know by tweeting us @goodhomesmag or post a comment on our Facebook page.
RELATED ARTICLES