DFS launches sustainable Grand Designs sofa range
Sofa giant DFS has launched its most sustainable sofa collection yet in collaboration with Grand Designs and we can't wait to see what you think…
Image: DFS
The new collection is set to be a big hit with consumers, and is guaranteed to tick all of our boxes with its beautiful styles, sustainable practices and affordability. It's Grand Designs' first ever sofa collection, and we just know you're going to be impressed.
Available online now, scroll down for our exclusive sneak preview of the DFS x Grand Designs collection before it's available to buy…
Sustainability
Image: DFS
Almost every element of the stylish collection has a sustainability angle, with all elements made from recycled or recyclable materials. From sustainable seat cushion fillings made from recycled plastics to recyclable and reusable steel springs and fabric made from recycled polyester yarns, DFS have covered every base.
Additionally, in partnership with Clearabee, DFS have launched a scheme where your old sofa can be collected from your home and recycled as much as possible. This means responsible disposal and is a win the environment, and yourself as you'll save yourself a trip to get rid. The goal from DFS is to reduce the number of sofas ending up in landfill, and the service now operates across the whole DFS group. Last year approximately 50,000 sofas were collected across the UK, and the company is confident they will beat that total for 2021.
We spoke to Kellie Wyles, head of upholstery and brands at DFS, who told us: "This range is  the next step in our ongoing journey to ensure that a more sustainable approach is embedded in everything we do – from the way we source materials, to the way we design, manufacture, retail and deliver our products, and even how we help customers dispose of old product."
Affordability
While the Grand Designs and sustainability element might make you presume the new DFS collection has a premium price point, you'd be wrong. Striving to make this eco-conscious range accessible to as many households as possible, DFS have ensured that prices start from £449.
Unique design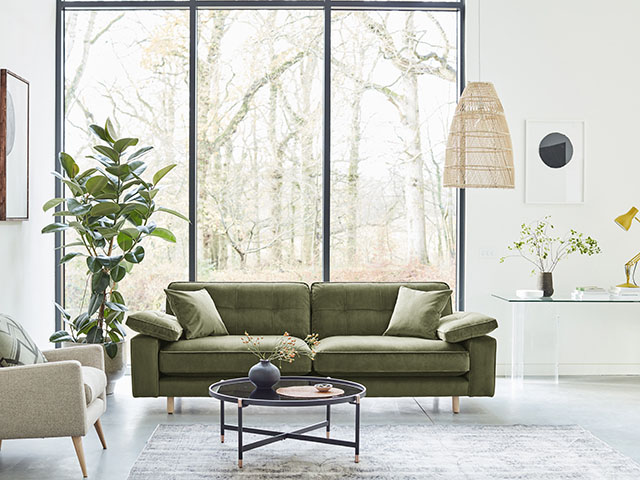 Image: DFS
It's not only the eco conscious element that has been key to this range but the fine design details, too. Contemporary style meets sheer comfort in the four sofa collections, which will all fit into any living space whether you're in a big open plan self-build or a compact cottage.
There are four styles attached to this new collection, each unique in its set up but equally stunning: Farnham, Edinburgh, Tenby and Kent. With modular seating, each of the sofas can be extended as desired, further demonstrating the versatility of this collection. Customers can also purchase footstools to match their sofa choice.
Additional information
Image: DFS
The swatches for each design are available in eight different shades: natural, mink, light grey, dark grey, mustard, green, blue and terracotta. Each of these comes in one of three fabrics: chenile, weave and velvet, giving us plenty of choice for our sofa setup.
Alongside these four ranges within the environmentally-friendly collection, DFS have also created the Padstowe – an accent chair to give customers the chance to embrace the trend of having a mismatched chair in a different colour and style to the sofa. You can mix up the colour swatch and fabrics between your sofa style and accent chair to create a unique look for your home.
Will you be ordering from the new DFS x Grand Designs collection? Let us know by tweeting us @goodhomesmag or post a comment on our Facebook page. 
RELATED ARTICLES