Stylish decorating ideas for your stairs
The stairs and hallway are often forgotten areas in the home, but there are endless styling opportunities to be had.
Image: Good Homes Issue April 2019 
Add some art
https://www.instagram.com/p/B2M-IjwlUad/
Your stairs aren't necessarily the most interesting or colourful part of your home, so a great way to add interest is to hang a gallery wall going up your stairway. Choosing a mismatch of frames and different prints by artists you love will personalise this space.
Stair runner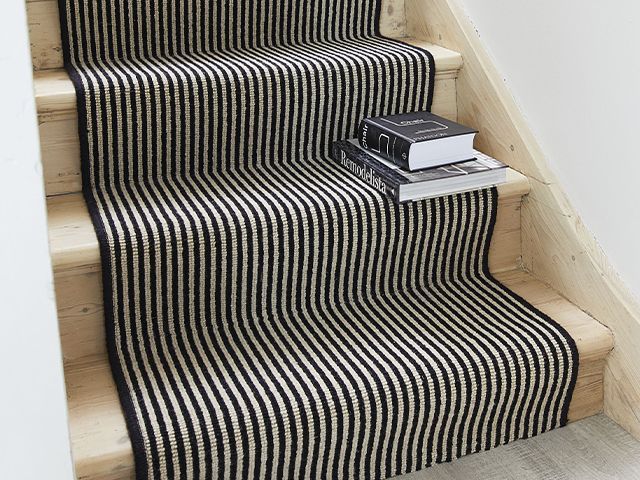 Image: Carpetright
Carpet runners are a brilliant way to warm up cold and uninviting stairs. If you don't want to carpet your entire stairs then a runner will still provide that comfort but will also keep the style of an exposed stairway. There are lots of different patterns out there but we think you can't go wrong with a classic stripe.
Under the stairs

Image: Grand Designs Live
Utilising the space under your stairs effectively can definitely be a challenge. It almost certainly becomes a dumping ground for your cleaning gadgets and other bits and bobs you want to hide away. However, why not think of transforming the space into something useful and quirky? Take a look at this amazing under the stairs bar created by Zoe Perks, which looks like it's come straight from the set of Great Gatsby!
Paint your bannister
Image: Good Homes April 2019 
Follow the latest hallway trend by painting your stairs in a dark colour, specifically black. It may seem like a daunting prospect at first but because a bannister lets lots of light through it, painting it black won't feel like such a dramatic change. Also, keeping your hallway a light colour and contrasting it with black stairs will look effortlessly chic.
Are you planning to redecorate your hallway? Let us know by tweeting us @goodhomesmag or post a comment on our Facebook page.    
RELATED ARTICLES