Sneak a peek at Tesco SS18 homeware at Good Homes' roomsets
Get an exclusive preview of the stylish SS18 pieces from Tesco and discover what we've chosen to feature in our roomsets at Ideal Home Show
Image from left to right: Eloise Large Grey Leather Sofa £549; Capri Stripe Cushion £8; Floral Cushion £9; Kanabu Ladder Shelf £99; Patterned Tealight Holders £8 Set of three; Multicoloured Wooden Frame £6; Hello Plaque £2; Yellow Ombre Vase £5; Blue Ombre Vase £8; White Photo Frame with Metal Stand £6; Blonde Wood Retro Drawers £12, all Tesco
Good Homes HQ is thrilled to announce that Tesco is our headline sponsor for this year's Good Homes roomsets at the Ideal Home Show. Tesco will be featuring many of its stylish products and we can't wait to reveal them all to you this March.
In the meantime, to whet your appetite, we're giving you the inside scoop on some of the key pieces we'll be featuring at the roomsets.
A Scandi inspired desk lamp
Image: Capri Desk Lamp £22; Blue Ombre Vase £8; White Geometric Ceramic Vase £10 Large; Yellow Ombre Vase £5, all Tesco
Combining style and practicality, the sleek Capri Desk Lamp, £22, above, adds a pop of colour and a modern feel to your living space or desk with its statement mint shade and classic Scandinavian design.
A rustic textured green vase
Image: Ceramic Flower Cut-out Mini Tealight Lantern £4; Green Textured Vase £8; Tall Dragonfly Decal Vase £10, all Tesco
Add rustic charm to your home with this textured green vase, £8. Fill it with a beautiful bouquet of spring flowers to bring life to your dining room table or dress it with branches and place it on a mantlepiece for a simple yet elegant touch.
A fresh stripe print cushion
Image from left to right: Eloise Large Grey Leather Sofa £549; Capri Stripe Cushion £8; Floral Cushion £9; Kanabu Ladder Shelf £99; Patterned Tealight Holders £8 Set of three; Multicoloured Wooden Frame £6; Hello Plaque £2; Yellow Ombre Vase £5; Blue Ombre Vase £8; White Photo Frame with Metal Stand £6; Blonde Wood Retro Drawers £12, all Tesco
Add a pop of colour to your living space with the Capri Stripe Cushion, £8. With its fresh pastel stripes and blend of summer colours, it will inject a fresh and stylish look to any living room in need of a seasonal update.
A pom pom fringed throw and silhouette cushion
Image: Fox & Ivy Oversized Floral Cushion £18; Fox & Ivy Floral Silhouette Cushion £18; Fox & Ivy Grey Knitted Pom-Pom Throw £40, all Tesco
Fox & Ivy, the premium homeware brand from Tesco, brings rich and opulent fabrics, metallic prints, tactile embroidery to the new season.
Classic and charming, the Jardin range by Fox & Ivy includes a cosy pom-pom knitted blanket, £40, and velvet-feel bird and floral print cushion, £18, above, perfect for creating a luxurious look in your home.

Feather print mugs
Image: Fox & Ivy Black Gold Feather Mug £5; Fox & Ivy White Gold Feather Mug £5, Tesco
These striking gold feather adorned fine china mugs, £5 each, come in an array of designs, each with an elegant gold handle. They'll add unique charm to a tea party and will stand out on display in your kitchen or dining room.
A plush velvet armchair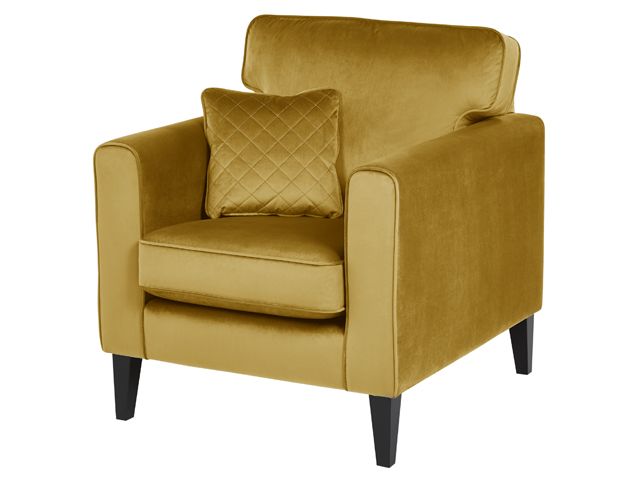 Image: Dexter Armchair in mustard, £399, Tesco
Elegant and luxurious, the sophisticated Soho range has been created for those who value exquisite design and the Dexter Armchair in mustard, £399, is a key piece from the collection. Team with brushed metal and marble accessories for an added touch of decadence.
The Tesco Spring/Summer 18 collections are available in selected stores and online* now at Tesco Direct. (0800 323 4050 / tesco.com)
*Selected lines available online and subject to availability
What piece will you be buying from the Tesco homeware collections? Tweet us @goodhomesmag or post a comment on our Facebook page.
RELATED ARTICLES