5 ways to update your living room for spring
As spring is nearly sprung, it's time to give your home décor a refresh. Read our top tips on how to update your living room for the new season.
Image: Furniture Village
Living spaces can become cluttered and uninspiring if we don't regularly update them, and now spring is nearly upon us, it's the perfect excuse to give our homes a colourful refresh. Check out these easy and affordable decorating tips below, inspired by the latest spring/summer trends.
1. Decorate with blooms
Image: Next
Add colour and style to your living space by introducing beautiful flowers. Spring is the perfect time to pick up a seasonal bouquet that suits your decorating scheme, or why not go for a walk in the local forest and pick your own wild flowers to create a rustic display.
2. Add patterned wallpaper
Image: Maison Margot
Don't hold back, go bold for spring by choosing a decorative wallpaper to add interest. Popular patterns for 2020 incude palm prints, oversized florals and jungle-themed designs. Whether you're creating a feature wall, papering the ceiling, or all four walls – a bold pattern will make a real style statement.
3. Spring clean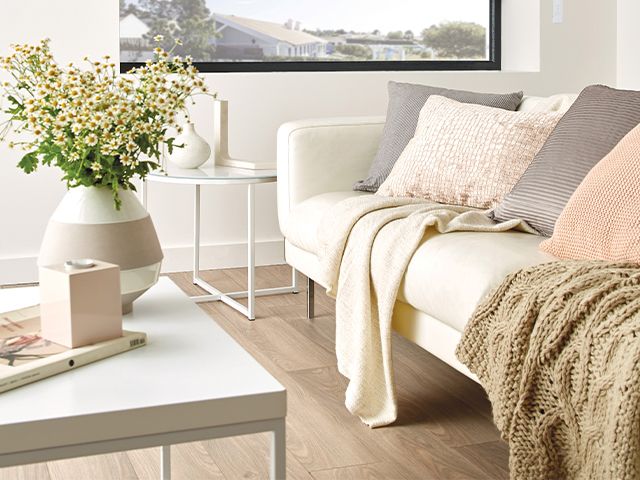 Image: English Blinds
Decluttering living spaces is important for creating a relaxing and wellness-centred home. Start by giving your room a deep clean and choosing a fragrance you love. Why not opt for Zoflora's 'Springtime' scent which has made a comeback this season. Tidy up your space by choosing stylish storage solutions to minimise clutter.
4. Switch up your soft furnishings
Image: Furniture Village
An easy and affordable way to update your living room is to introduce cushions and throws in bright colours with spring-themed designs. Opt for lighter fabrics such as linen and cotton, and store away darker cushions in an airtight box to reintroduce them for autumn/winter.
5. Focus on light
Image: Dunelm
This is the season to say goodbye to dark and cosy interiors, and fling open doors and windows to let in the light. Consider opting for a sheer fabric at windows to inject your living space with a dreamy feel. Help bounce light around a room by decorating with a lighter paint shade, or hanging a stylish, oversized mirror on the wall.
Will you be giving your living room an update for spring? Tweet us @goodhomesmag or post a comment on our Facebook page!
RELATED ARTICLES