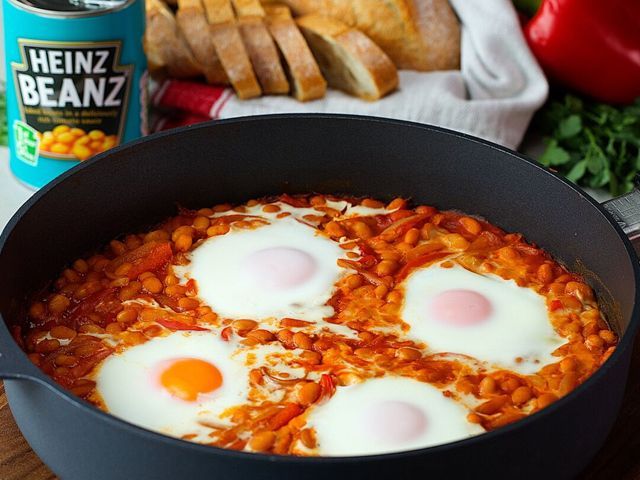 3 baked bean Bonfire Night recipes
November 1, 2019
With nearly a quarter of Brits tucking in two or three times a week, there's no doubt that we're a nation of baked bean lovers. We've partnered up with Heinz to spill the beans on six tasty Bonfire Night recipes using the humble pantry staple.
Heinz Beanz Sausage Bacon Pies
Image: Heinz
Makes 12 pies
Prep time: 30 mins
Cooking time: 15 mins
Ingredients:
600g of Heinz Beanz
8 rashers streaky bacon, diced
6 chipolata sausages
2 sheets of reduced fat puff pastry
1 egg, beaten
50g cheddar cheese, grated
Muffin tin
Toothpick
Method:
1) Preheat the oven to 200°C
2) Pop the chipolata sausages on a lined baking tray and grill on high for 6-8 minutes, flipping them halfway through. Dice into 1cm chunks and set aside.
3) Fry the bacon in a non-stick pan until slightly crisp. Add the Heinz Beanz and the sausage pieces.
4) Stir and bring to a simmer. Cook until the sauce is slightly reduced. Remove from the heat and cool completely.
5) With the pastry, cut 24 round circles from the pastry – 12 big and 12 small.
6) Grease a muffin tin and push in the 12 large rounds.
7) Spoon 2 tbsps of the Beanz mixture into each round. Top with a little cheddar cheese.
8) Brush the exposed pastry with the egg wash and lay on the small rounds of pastry. Press lightly to seal.
9) Using a toothpick, create a little hole/vent in each pie.
10) Bake for 15 minutes and enjoy!
Heinz Beanz Tacos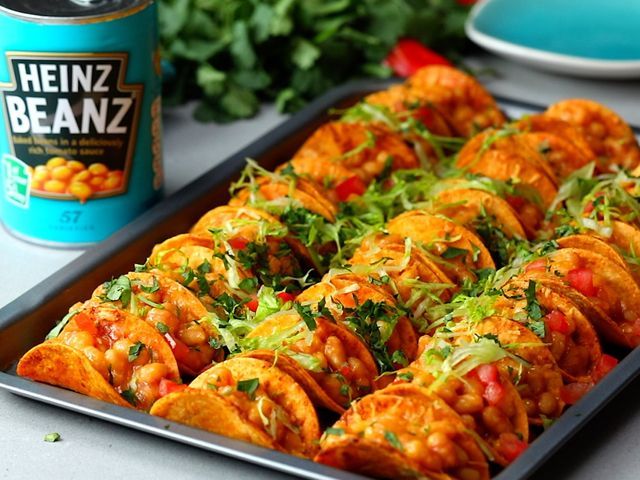 Image: Heinz
Serves 20 people
Prep and cooking time: 20mins
Ingredients:
1 can Heinz Beanz (415g can)
8 large flour tortillas
100g cheddar, grated
50g unsalted butter, melted
2 tbsp taco seasoning
1 tomato, finely diced, for garnish
¼ iceberg lettuce, shredded, for garnish
15g coriander, finely chopped, for garnish
Sour cream, to serve
Muffin tin
Method:
1) Take each tortilla and, using a small cookie cutter, cut as many circles as you can from each tortilla.
2) Mix together the butter and taco seasoning and dip in the tortilla circles. Flip a muffin tin upside down and use the gaps to stand them all up in a taco shape.
3) Bake for roughly 8 minutes at 180°C or until they've crisped up but haven't turned too dark.
4) Fill each with Heinz Beanz and shredded cheddar.
5) Return to the oven for 5 minutes or so to melt the cheese.
6) Sprinkle with shredded lettuce, diced tomatoes and coriander.
7) Serve with sour cream to dip. Enjoy!
Heinz Beanz Burger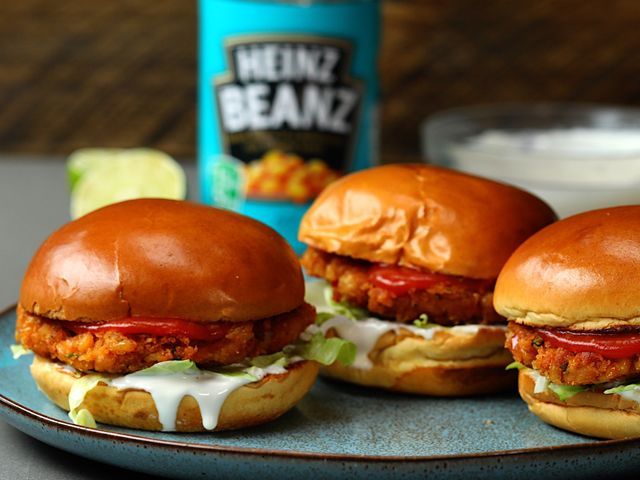 Image: Heinz
Makes 6 burgers
Prep and cook time: 30mins
Ingredients:
2 cans Heinz Beanz (415g can)
80g panko bread crumbs
2 tbsp chopped coriander
1 small onion, or ½ large onion, finely chopped
1 clove garlic, finely chopped
1 tbsp olive oil
½ tsp cinnamon
1 tsp paprika
1 tsp cumin
½ tsp salt
1 red chilli, deseeded and finely chopped
¼ cup oil, for frying
2 tbsp Heinz Tomato Ketchup
½ lime, juice only
150ml sour cream
250g Heinz [Seriously] Good Mayonnaise
Lettuce, for the buns
Buns for the burgers
Method:
1) Drain the cans of Heinz Beanz, separating the tomato sauce and reserving for later.
2) Fry the onion and garlic in oil until translucent and leave to cool.
3) Add onion and garlic to a bowl with the Beanz, coriander, spices, salt, breadcrumbs and chilli.
4) Mix with a wooden spoon until the mix comes together, making sure to leave a few Beanz whole.
5) At this point, get your hands in and mould into 6 burgers. Pop into the fridge briefly to rest.
6) Fry the burgers over a medium heat to give the exterior a good crunch. Make sure not to burn them!
7) Add the drained tomato sauce to a small saucepan and reduce over medium heat until thick. Stir through the Heinz Tomato Ketchup and set aside to cool.
8) Mix the Heinz [Seriously] Good Mayonnaise with the sour cream and lime juice.
9) Now that you have your burgers and two sauces, you can now build your burger – bottom toasted bun, ketchup sauce, lettuce, burger, sour cream and then finish with the top bun.
Heinz Breakfast Burritos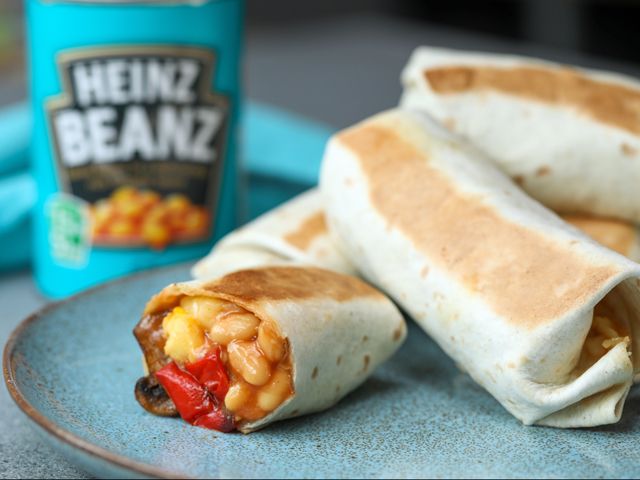 Image: Heinz
Ingredients:
600g Heinz Beanz
8 flour tortilla wraps
3 eggs
100g mushrooms, diced
150g peppers, diced
200g potatoes, peeled and diced
170g sausages
60g cheddar cheese
45ml skimmed milk
2 tsp vegetable oil
5g butter
Oregano, ½ tsp
Salt and pepper, to taste
Method:
1) Preheat the oven to 200ºC
2) Place the sausages, potatoes, mushrooms and peppers on a baking sheet.
3) Drizzle everything with oil and season with salt and pepper to taste.
4) Cook for 20 minutes or until cooked through.
5) Whisk together eggs, milk, and salt and pepper to taste.
6) Heat the butter in a non stick pan over medium-low heat. Gently fold your eggs until loosely scrambled and just cooked through. Set aside.
7) Microwave your Heinz Beanz until hot.
8) Slice your sausages and lay out a tortilla. Add a couple tbsps of potatoes, mushrooms and peppers, spoon on Heinz Beanz, then lay on 2 or 3 slices of sausage and top with scrambled eggs and cheese. Fold in the sides and roll tightly into a burrito shape.
9) Heat a non-stick pan over medium heat. Brush with oil. Place burritos seam side down and pan sear until golden brown on both sides.
10) Serve and enjoy!
Heinz veggie sausage rolls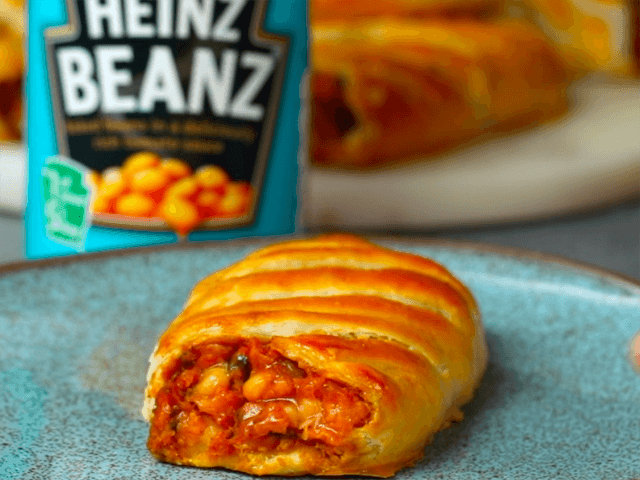 Image: Heinz
Makes 8 veggie sausage rolls
Prep time: 30mins
Cooking time: 30-40 mins
Ingredients:
2 cans Heinz Beanz (415g cans)
1 tbsp oil
1 small onion, finely chopped
1 carrot, peeled and finely chopped
2 celery sticks, finely chopped
1 cup finely chopped mushrooms
1 ½ cup breadcrumbs
2 tbsp Amoy soy sauce
1 tbsp finely chopped chives
1 tsp smoked paprika
½ tsp fresh ground black pepper
2 ready rolled puff pastry sheets
Egg wash
2 tbsp Heinz Classic BBQ sauce
Method:
1) Preheat the oven to 180°C
2) Drain the cans of Heinz Beanz, separating the tomato sauce into a pan. Set the Beanz aside for later use.
3) Heat the tomato sauce over a medium heat. Stir in the Heinz Classic BBQ Sauce and heat through before setting aside.
4) Heat the oil in a pan over a medium heat. Cook the onion, carrots, celery and mushrooms until all moisture is evaporated and the mixture is dry.
5) In a large bowl, roughly mash together the Beanz. Add the cooled vegetable mix, breadcrumbs, Amoy soy sauce, chives, paprika and black pepper and mix to combine into a thick filling.
6) Dust a surface with flour. Place the ready rolled puff pastry on top and cut into 4. Spread the tomato and BBQ sauce glaze in a line on the puff pastry.
7) Arrange the Beanz mixture in a log on top of the sauce on one side of the puff pastry leaving a slight edge bare.
8) Brush the edge with egg wash. Fold over the pastry and press to seal. Use a fork to seal the pastry and create a pattern.
9) Repeat with remaining mix and pastry to make 8 sausage rolls. Brush with egg wash and cut a few lines in the pastry for design.
10) Bake until golden and pastry is puffed (30-40 minutes).
Heinz baked eggs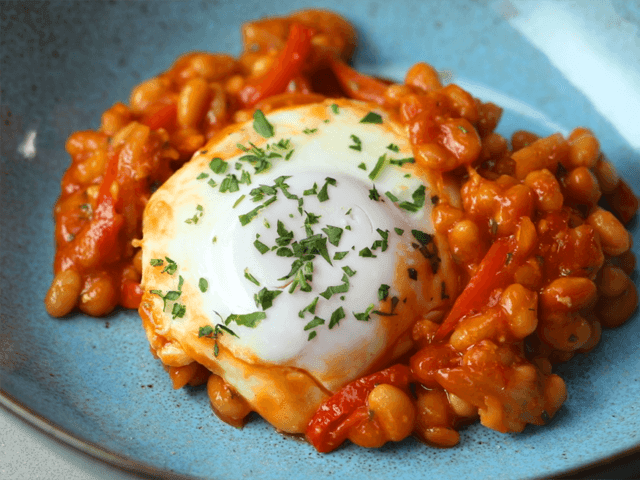 Image: Heinz
Ingredients:
 2 cans Heinz Beanz (415g can)
 1 tbsp vegetable oil
 1 onion, chopped
 2 red peppers, sliced
 2 tbsp water
 1 tbsp tomato puree
 1 tsp cumin
 1 tsp paprika
 4-6 eggs
 Bunch of chopped parsley
Method:
1) Preheat the oven to 180°C.
2) Heat the oil in an ovenproof saucepan and fry the onion and peppers until soft.
3) Add tomato puree, cumin and paprika and season to taste. Add a splash of water, then pour in the Heinz Beanz. Stir everything together and bring up to a simmer.
4) Add the eggs one at a time and place the whole dish in the oven. Bake for around 5 – 10 minutes or until the whites of the eggs have set but the yolks retain a wobble.
5) Sprinkle with chopped parsley and serve with crusty bread.
---
RELATED ARTICLES