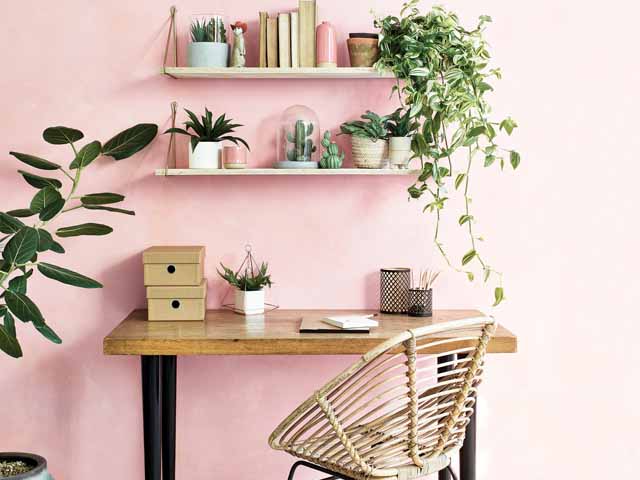 What the colour you choose to paint your office says about you
February 3, 2021
With home working now the norm, many of us are making the move more permanent by redecorating our spaces. As we all know, colour can be a big factor in our mood, and research from psychologist Lee Chambers and Stelrad.com suggests it can also impact our work habits. We found out what the paint colours mean for our mood, and our careers…
White, grey and beige
Image: Furniture Choice
According to the survey undertaken by Stelrad.com, these are the most popular colours for a home office, likely due to their blank canvas feel, making it easy to adapt the room if home working doesn't end up being permanent.
Unfortunately though, these colours in particular are found to create sad and depressive feelings in females when in rooms without a splash of colour, a survey from the University of Texas found. So, if you decide to opt for a white or grey office, try to mix it up with coloured furniture or a pop of colour in artwork to give it some life.
Yellow
Image: Annie Sloan
Lee hails this as the perfect colour for a home office, particularly if you work in a creative industry. He explains: 'Yellow is the symbol of creativity, and is often used in innovation labs and creative spaces. Yellow backgrounds actually increase information retention, which is really good if you need to highlight important information.
'That being said, try not to use too much of it in both the background and the space, as it can induce eye fatigue, which can make us agitated if exposed to for too long a time period.'
Blue
Image: Carpet Right
Another popular choice, blue is known as the colour of productivity. 'It promotes a sense of calm, leaving you able to concentrate for longer periods of time, and helping you to feel balanced and in-control.
'Be careful that it doesn't leave you feeling too relaxed though, as this can dull your creative instincts." Instead, use blue with warm colour accents to get the best of both worlds.'
Green
Image: John Lewis
At a time when we can't get outside as much as we'd like, green is a great way to bring nature into our homes. Lee believes it can make a great home office colour. 'Green is the colour of serenity and growth, it causes less eye fatigue but also helps us to focus for longer time periods. It has the calming impacts of blue, but with lower productivity levels and a higher increase in wellbeing, which makes it really balanced.
'If you don't decide to paint your walls green, I'd definitely recommend having plants on your desk. If you make sure you have plants in your eye line, you'll get the benefits of green in your office but the air-purifying benefits, too!'
Read more: Trending: 5 of the most popular houseplants for your home
Red
Understandably, this is not a popular home office colour, but Lee believes when used sparingly it can provide some benefits. "As a powerful and vibrant colour, it can be useful to boost your productivity. It's also known to raise blood flow and increase our heart rate, so can be helpful when you're performing physical tasks.
'Be careful though, red can easily become overstimulating which results in a loss of concentration, and even making us feel volatile which can cause mistakes and conflict in the workplace. Use it wisely to access the benefits.'
Video background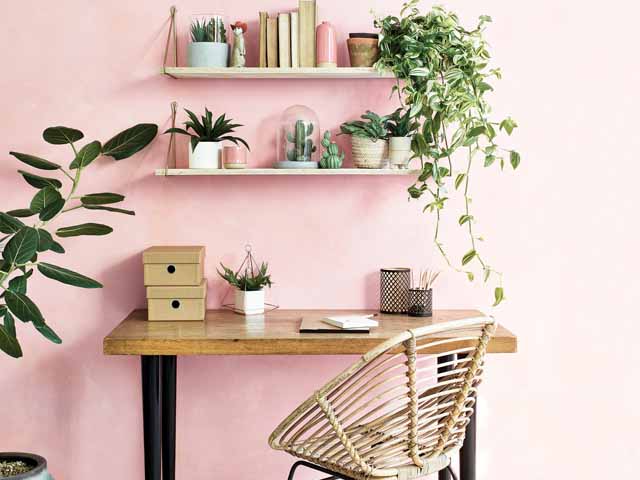 Image: George Home
Not only is the colour of our home office walls important, but also the colours we feature in the background of the Zoom and Teams calls we're now getting on the regular. Peach is considered to be happy and welcoming, while pink is seen as indulgent and warm – both great options if you want to make a good impression.
Are you revamping your home office? Let us know by tweeting us @goodhomesmag or post a comment on our Facebook page.
RELATED ARTICLES
4 design ideas using neutrals in a home office