Top shopping picks from Good Homes' roomsets at Ideal Home Show
Take a look at our editor's top picks from our Royal family themed roomsets at 2019's Ideal Home Show spring
Image: Karl O'Sullivan
Each year, our roomsets at Ideal Home Show are brimming with stylish furnishings and accessories from contemporary homeware stores, inspired this year by the Royal family.
We round up just a few of our favourite on-trend picks showcased at this year's show.
Statement lighting in Meghan and Harry's kitchen diner
Image: Karl O'Sullivan 
The idea behind the stylish Duke and Duchess of Sussex's kitchen-diner look is all about embracing 2019's Pantone colour of the year, living coral. To add extra interest to the scheme, we chose the large diffuser floor lamp, £180, in a vibrant coral hue, from the soon to be launched, Houseof.com that'll jazz up any living space.
Decorative floor tiles in the outdoor space
Image: Karl O'Sullivan 
If your outdoor space is in need of a makeover for summer, we recommend revamping from the ground up with Gosford yellow panel tiles from Walls and Floors from Walls and Floors, £17.95 per sheet.
Striking shutters in Meghan and Harry's kitchen diner
Image: Karl O'Sullivan 
Coral is the colour of the moment, and our kitchen diner roomset is no exception, where even shutters have been made in this vibrant hue: Richmond hardwood shutters, from £750 each, Hillarys.
Summer garden lounge set in Kate and William's family space
Image: Karl O'Sullivan
A small outdoor area is the ideal space for balmy summer evenings with family. This stylish Alexander Rose Old England Woven lounge set, £849, from Regatta Garden Furniture will seat everyone comfortably.
Vibrant yellow walls in William and Kate's living space
Image: Karl O'Sullivan 
The family room designed for the Duke and Duchess of Cambridge is full of popping hues, and the walls are no exception. Crown's Mustard Jar matt emulsion, £18 per 2.5ltrs, is the perfect shade for a lively living space.
Living coral splashback tiles in the kitchen diner
Image: Karl O'Sullivan
Make a bold statement in your kitchen with metro-style Craquelure tiles in Living Coral and Rose splashbacks, £34.95 per sqm, Walls & Floors.
Double Jack and Jill sinks in the Queen's en suite
Image: Karl O'Sullivan 
The Queen's en suite bathroom is a calming space in avocado. The Ortona painted vanity unit, £3,210 with three-hole mixers tap, £295 each, from Albion Bath Co., would surely be a firm favourite of her majesty The Queen and the Duke of Edinburgh.
The Queen's bed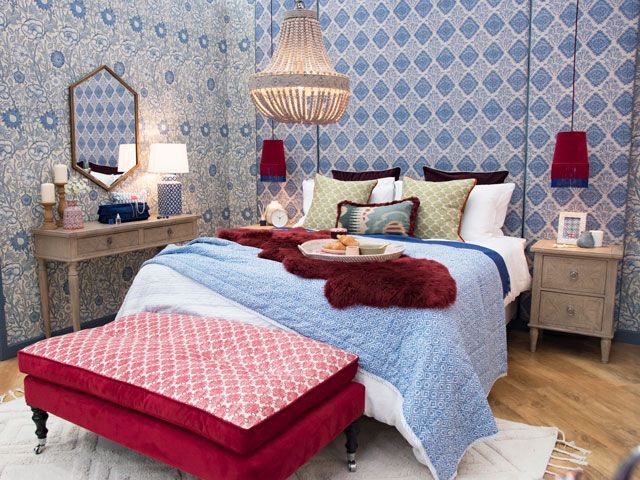 Image: Karl O'Sullivan 
In her Majesty's opulent bedroom roomset Unikbed's Royal spring mattress, £13,608; Continental base, £850, are the perfect combination befit for a Queen.
Wood flooring in Charles and Camilla's living room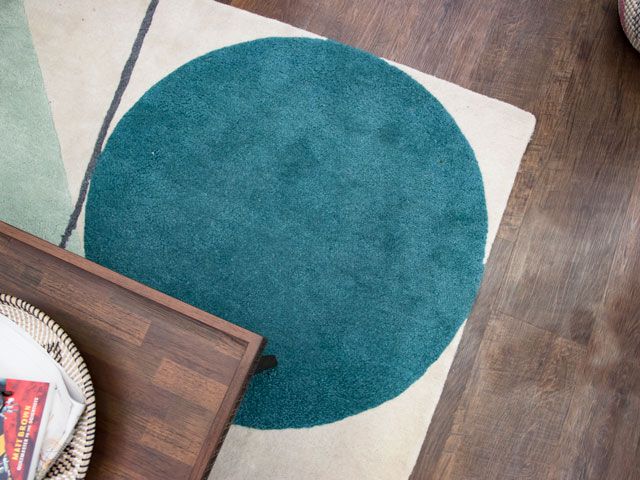 Image: Karl O'Sullivan 
Inspired by Prince Charles and Camilla's love of nature, this opulent living room features great flooring from Karndean Designflooring: Korlok RKP8110 Antique French Oak, £48.99 per sqm which not only looks great but also reduces noise transfer – perfect for first floor rooms. Plus, the antique-look colouration perfectly highlights the historical markings and tarnishing that you would see in real timber.
Will you be purchasing any of our roomset items? Let us know by tweeting us @goodhomesmag or post a comment on our Facebook page.
RELATED ARTICLES