Ideal Home Show Christmas 2018 roomsets: Top shopping picks
Take a look at our editor's top shopping picks from our festive roomsets at 2018's Ideal Home Show Christmas
Image: Emma Langsheid, Karen Walker in the Disco Fever New Year's Eve roomset at Ideal Home Show Christmas 2018
Every year, our roomsets are packed with stylish products from a variety of contemporary homeware stores.
We've rounded up just a few of the many on-trend pieces showcased at this year's Ideal Home Show at Christmas.
Statement flooring in the NYE living room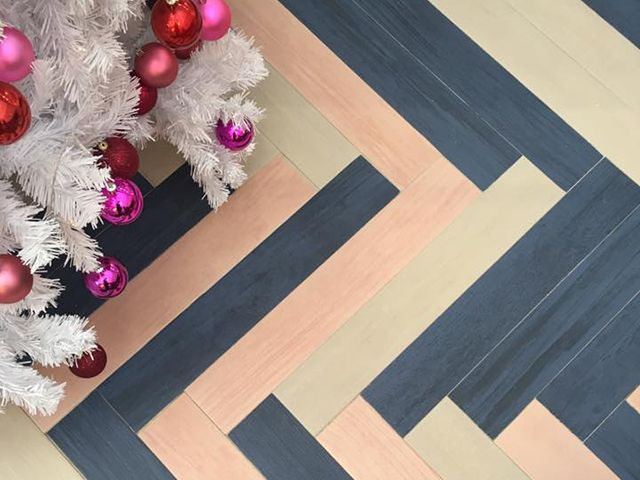 Walls and Floors have an array of stylish flooring styles to choose from and we've included quite a few stunning options.
The showstopping Nyans wood effect tiles in Soft Taupe, Candy Pink & Indigo Blue, £39.95/Sqm, add extra colour to our Carnival themed New Year's Eve living room.
Red velvet sofa in the Boxing Day living room
Image: Jenny McFarlane
Our headline sponsor Maisons du Monde has an extra twinkly collection of Christmas homeware.
Their super comfy Chesterfield-style CARMEN 3 seater velvet sofa in red, £1,049, in our Boxing Day living roomset ticks all the festive boxes.
Bold floral wallpaper in the Boxing Day dining room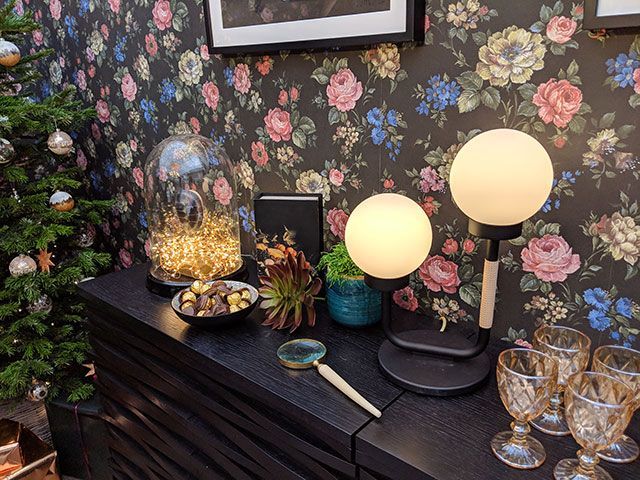 Image: Jenny McFarlane
Derived from a Graham and Brown archival piece and hand drawn with chalky pastel detailing, the Muse wallpaper, £50 for 10m roll, with its dark, moody blooms, dusty ornate finishes and blackened textures, created the perfect backdrop for our sultry Five Star Glamour Boxing Day dining roomset.
A handy wine cooler in the New Year's Eve dining room
Image: Jenny McFarlane

Our Disco Fever New Year's Eve dining room wouldn't be complete without somewhere to chill all the bubbles for the new year's countdown. As the cock strieks 12, this sleek Wine Cooler, £329.99, from Husky Fridges, will come in mighty handy.
The vintage rug in the Boxing Day dining room 
Image: Jenny McFarlane 
This vintage-inspired rug from The Rug Seller, £159.99, adds instant cosiness to our Five Star New Year's Eve dining room setting.
A cosy stove in the Christmas Day living room
Image: Jenny McFarlane
Snuggle up fireside this Christmas Day with ACR Heat's Birchdale stove in white, £1320. We've featured it in our Christmas Day living roomset tucked into a traditional mantal fireplace.
Make sure you buy Ideal Home Show Christmas tickets to get up close and personal with our stunning roomsets.
With thanks to our sponsors 
Have you got a favourite piece form the roomsets? Let us know by tagging us on Instagram using #GHroomsets, tweeting us @goodhomesmag or posting a comment on our Facebook page. 
RELATED ARTICLES
Tags: bhs lighting, christmas decor ideas, Christmas decorating, christmas decorating trends, christmas design ideas, christmas roomsets, decorating ideas, decorating trends, Good Homes roomsets, ideal home show christmas, ideal home show christmas roomsets, ideal home show good homes room sets, ideal home show roomsets, ideal home show xmas, ihs christmas, loft furniture club sofa, walls and floors marble flooring