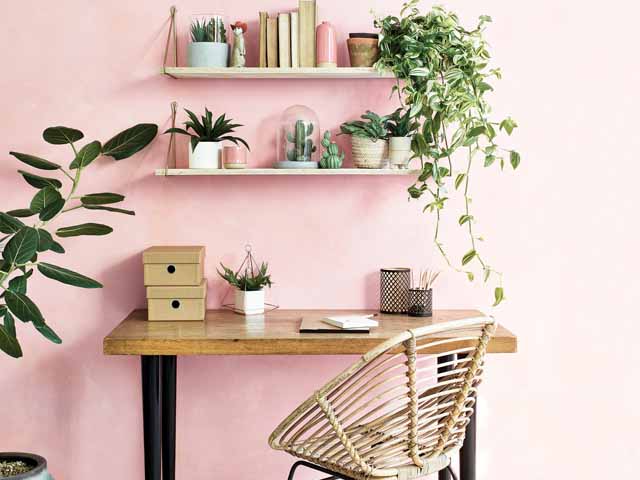 6 steps to create a stylish workspace at home
July 19, 2019
Turn an unused corner into a practical and chic workspace with these 6 steps.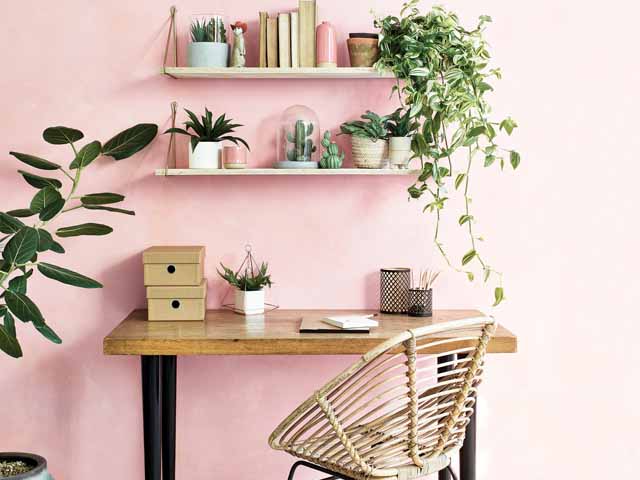 Image: George Home
Whether you're working from home and want to create a stress free environment, or you're just getting organised for the new school term, creating a dedicated workspace is a worthwhile little project. The best part is you don't need to have a spare room to achieve this; even an unused corner can be turned into a home office.
So, follow these 6 steps to create a Scandi-chic workspace that works for you.
Paint the wall
Once you've found a spot for your office, it's a good idea to paint the wall a nice bright colour because, let's face it, you're going to be staring at it for a while so you might as well make it pretty!
You want a colour that's going to reflect the light and not make your space feel dark and dingy. Pastel hues are a great option as they're known for creating a calming atmosphere; just what you need when you're stressing over your work.
Rustic shelves
Rustic, reclaimed wood shelves are a must if you want to achieve a Scandi-style office. Grab a couple of shelves and put them up using some rope or industrial metal brackets to finish off the look.
Retro desk
To match your rustic shelves, you'll need a retro desk. If you have a smaller area to work with, go for a more minimalistic desk with just a worktop. However, if you prioritise storage over creating the illusion of space, get a desk with a few drawers to keep any work essentials in.
Comfy chair
If you're working from home and are going to be typing at your desk for a long period of time, a comfortable chair is a must. As home offices become more popular, demand for stylish, ergonomic chairs that fit with your home decor increases, you don't have to compromise on comfort to get a good-looking chair.
Alternatively, if your workspace is going to be used for homework or the odd work report, a rattan chair may be more fitting for a Scandi scheme, accessorised with some throws and pillows for extra comfort.
Plenty of plants
Not only do plants brighten up your workspace and are nice to look at when you're procrastinating, scientific studies have found that having plants around actually increases productivity. Go for a mixture of succulents, flowers and hanging plants for the best effect.
Separate with a screen
A room divider screen is a great way to zone off your stylish workspace when you need a little separation from the busyness of the rest of the home or want to conceal your office clutter.
A rustic wooden screen would work well, but you can also get screens that are works of art in themselves. The best thing about room dividers is that if you decide you want a more open space, they can easily be folded to one side.
What are your must-haves when it comes to creating a stylish workspace? Tweet us @goodhomesmag or post a comment on our Facebook page.
RELATED ARTICLES