Buyer's guide to eco-friendly paint
Keep your home healthy and minimise its effect on the environment by choosing a natural, low-emission paint to decorate your home.
Image: Little Greene
Making your home greener is an ongoing process, but opting for a 'fabric-first' approach is the best way to ensure your space is healthy, efficient and minimises damage to the environment.
This includes ensuring your space is well-insulated, has energy-efficient doors and windows and eco heating, but did you know that your choice of paint also contributes to your home's eco-credentials?
What are VOCs?
Image: Cox & Cox 
VOCs (or volatile organic compounds) are gases that are released into the air from some paint as it dries causing indoor air pollution – usually in paint formulas including solvents. VOCs can cause temporary and longer term health concerns according to the UK Government.
Because of this, VOCs are something that have decreased dramatically in paint formulas over recent years as its regulated by the EU, and water-based paints tend to have far less VOC content than oil-based ones.
The UK has a labelling system on paint, ranging from minimal to very high, but you'll also know as soon as you start painting. Low-VOC paint has virtually no smell, dries quickly and, in the case of most brands, has great coverage.
However, just because a paint has a low level of VOCs, doesn't mean it's necessarily eco-friendly. It also depends on what your paint is made up of.
Natural paint formulas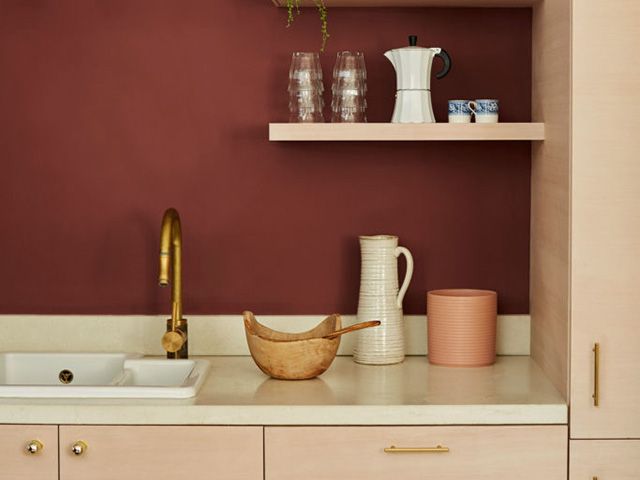 Image: Earthborn Paints
The best eco-friendly paints have formulas free of chemicals and plastics. These paints are usually made up of a mix of water, chalk and clay, and they use plant dyes to colour to achieve vibrant shades. These ingredients are all renewable.
Natural paint formulas tend to be breathable too, which helps avoid moisture getting trapped in your home. This makes it great for period properties and it also works wonders in bathroom too.
Where can I buy eco-friendly paint?
There are a range of paint brands that are widely available which are considered eco-friendly. Earthborn Paints and Lakeland Paints have a natural paint range made from clay, while Little Greene, Farrow & Ball Dowsing & Reynolds and Cox & Cox all have low-VOC formulas. Homebase has its own in-brand paint brand which is labelled as eco-friendly too.
Are you searching for an eco-friendly paint? Let us know by tweeting us @goodhomesmag or posting a comment on our Facebook page.
RELATED ARTICLES