The vegan brownie recipe you need to try
These delicious vegan brownies will convince even the most reluctant plant-based eater!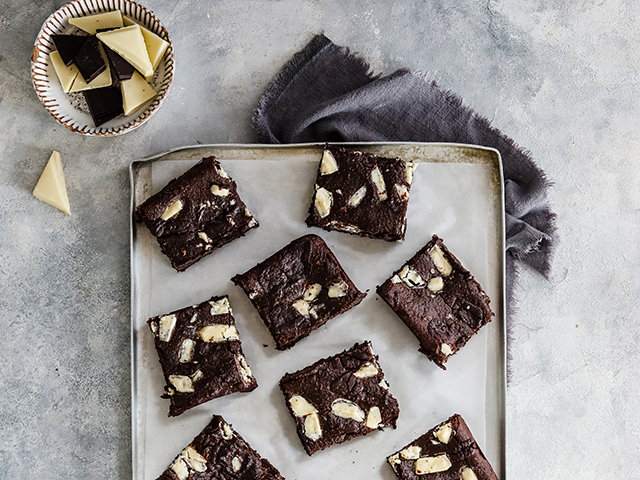 Image: Horlicks, @whatluceeats
Bored of making banana bread? This lockdown it's all about brownies! As we head into the last week of Veganuary,  treat yourself and whip up a batch of these mouthwatering brownies with the recipe from Horlicks to reward yourself for completing the challenge!
Ingredients
390ml dairy-free milk
50ml melted coconut oil
150g melted dark chocolate
90g Horlicks Vegan
135g plain flour
50g coconut flour
80g light brown sugar
50g cacao powder
1 tablespoon of ground flaxseed
50g dark chocolate chunks
100g vegan white chocolate chunks
Method
Preheat oven to 180°C/Fan 170°C /Gas 5 and grease or line a rectangular baking tin with parchment paper.
In a large bowl combine the melted dark chocolate, melted coconut oil and dairy free milk. Mix together and then add the Horlicks Vegan, plain and coconut flours, light brown sugar, cacao powder and ground flaxseed.
Combine well and then fold 2/3 of the white chocolate and dark chocolate chunks through the mixture.
Pour the mixture into the tin and flatten so it's smooth. Now scatter the remaining chocolate chunks on top and gently push down.
Bake in the oven for 40-45 minutes or until a toothpick comes out clean.
Allow to cool before removing from the tin, slicing and devouring!
Will you be making these vegan brownies? Share your results with us by tweeting @goodhomesmag or post on our Facebook page.
RELATED ARTICLES
9 plant-based recipes for Veganuary
5 vegan recipes using meat or dairy alternatives
How to stay vegan after Veganuary