Q&A with Michelin star chef Jason Atherton
In an exclusive interview with Michelin star chef Jason Atherton, we talk food waste, work-life balance and the next big trends in food.
Image: Karolina Krasuska
We met up with Jason Atherton where he prepared a 3-course meal for us at the LG Signature Residence in London.
What's your go-to meal when you don't have much time to cook?
I'm a massive Italian fan – we go to Italy every summer, so I like to make pasta. Everybody usually buys it ready made, and we do too sometimes, but I always try to keep a kneaded ball of pasta dough in the fridge. It takes 10 minutes to prep – It's just flour, eggs, olive oil and water.
It's something I've already passed on to my eldest daughter – she can make pasta and pizza dough, and cooks Sunday lunch. One day when she goes to uni, I don't want her living on crisp sandwiches because she can't cook – it's a gift that everybody should be able to do.
Sustainability is a massive thing right now – how are you minimising food waste and are you adding plant-based meals to your menu?
Image: Karolina Krasuska
We're stuck in this awkward time where we absolutely recognise that the planet's going south and we have to do something about it. We still live in a very disposable world, where we buy stuff, dispose of it, buy more, and it will take a couple of generations to shake that.
It will take a lot of investment by the big companies to give us options and food's exactly the same. Where I get stuck as a restauranteur, if you're coming out for your birthday at Pollen Street tonight, do you really want to eat second-hand turnip as your main dish?
We've just done a lovely chicken dish before I got here on the new menu where we're using Bresse chicken from France and it's just the best chicken on the planet. Do I use another chicken? That's not travelled as far, because ultimately, what I'm trying to get as a chef is, for you to taste my food and go: 'Oh my God, that is simply one of the best dishes, I've ever eaten in my entire life.' If I get you to do that, I've achieved my job as a chef. Absolutely, I want to use every single bit of waste in my kitchen, but at the same time, I want to fulfil my promise that I'm one of the best restaurants in the country, and have been for the last 7-8 years. I can't suddenly then, spin that 360 and say, do you want to eat chicken feet, because I've chopped them off the chicken which the diner had before you and you're like, well hang on a minute, they had chicken breast, I'm eating the chicken feet – what's going on there? It's tricky isn't it?
What's important is that we've all recognised it.  Now, what we try and do, is use food that we know hasn't travelled that far.
Is Brexit going to influence your menu choices?
Image: Karolina Krasuska
It's one of those things where until we actually leave, no one knows. Can we use our passports? Do we have to get a visa? Am I going to be able to buy French wine? French chicken? Will I be able to get my butter from Normandy? What does it mean?
For me, I just get on with life and understand that I'm long in the tooth, I've been at this for 34 years, in the restaurant game, I've lived through two recessions, a global financial meltdown, now Brexit, there will be so many more things we live through when I retire, so it is what it is.
You've worked with some strong characters including Marco Pierre White and Gordon Ramsey. How do you keep your cool in the kitchen?
Image: Karolina Krasuska
While I'm firm and I know what I want, I'm very non-aggressive. I'm very hell-bent on the amount of hours I put in. When you work really hard and you put a lot of time and effort into your career, people ask 'where's the work-life balance?' But to be great at anything, you've got to put the time in. I'm very lucky that my wife supports me 100% and that my children understand it. It takes me getting out of bed at 6am and not getting back into bed until 1am the next, and I've done that for 34 years. I'm not here to try and make an excuse for it – all I know is that I've got a pretty good life out of it.
My predecessors didn't deal with customers who are pickier than they've ever been. British people have a reputation for not complaining, but now, everybody complains about everything. Tripadvisor, social media, Instagram, Twitter, you name it, it's out there and everyone's got a voice.
How has being a professional chef changed your relationship with everyday cooking?
Image: Karolina Krasuska
My standards are exactly the same here as they are at home. The other night, I cooked pancit canton, a Filipino dish, made up of noodles, mangetout, carrot, garlic…I can't get out of the habit of having all the containers in front of me: all my prep done and vegetables neatly julienned. When it actually comes to making the dish, it's all chopped up, ready to go, whereas most people would have stuff everywhere! My kitchen is always spotless, because it's drilled in to me to work methodically.
When it comes to a Sunday roast, while most people would have been up from 10am with pans everywhere, for me it takes an hour to cook. It's more home-based food, but the standard's the same – beautiful Yorkshire puddings, gorgeous roast potatoes, because it's what I do!
Speaking of spuds and Yorkshire puds, will you be hosting Christmas at your house this year?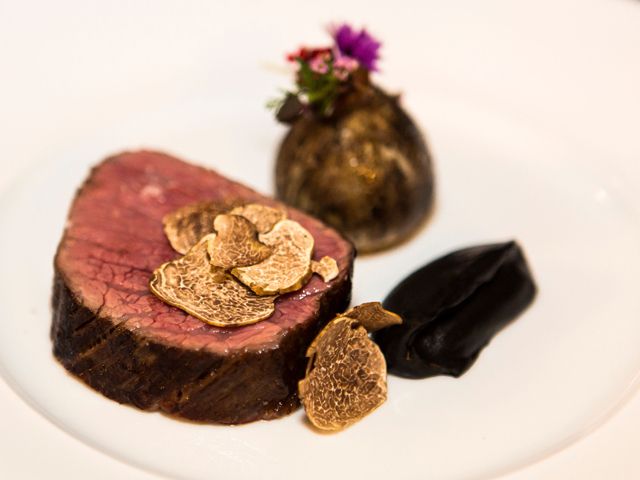 Image: Karolina Krasuska
Because we've got so many international restaurants, usually we go to work in one of them for a week around Christmas and spend some time in that part of the world. A couple of years ago, we spent Christmas in New York and then went onto Whistler in Canada to ski. Last year we cooked in the restaurant in Cebu in the Philippines.
But this year, because we've got a new baby, we don't want to travel too far. For the first time in many, many years, we're doing Christmas in London, which I'm really excited about.
Food-wise, I like turkey, but I'm probably going to do something a little more exciting. We'll probably do goose. I'm not a massive fan of Christmas pudding, so I'll do bread and butter pudding with Baileys for dessert.
Which food and drink trends do you predict will be big in the next year?
Image: Karolina Krasuska
Israeli food is becoming more and more popular – I'm seeing it pop up all over the world. As far as Asia is concerned, were starting to see that Chinese food is being broken down far more into regions, whereas before it was 'I'm going to a Chinese restaurant'. I've got restaurants in China so I understand the diversity of the eco-system over there. We work with the seasons so we get very diverse products at different times of the year. I'm glad that the rest of the world has latched onto the fact that Chinese food is just not one style of cooking.
Eastern European food is starting to be taken a lot more seriously too. Hungary, Bulgaria, Romania – these are emerging countries with a lot to offer. With the emergence of middle class in those countries, you start to get a bigger boom in food. There's demand for home-grown talent to open restaurants and I think that's very exciting for Europe.
Lastly, your restaurant empire includes City Social, Pollen St Social, but what's next for you?
Image: Karolina Krasuska
We're doing a big refurb at Pollen Street Social next year. We're going to make it a bit smaller, purely because we want to push the restaurant harder – I want it to get better!
I've got another 10 years left in me cooking, so I want to try and make Pollen Street Social into what I believe is the ultimate restaurant. The new kitchen is like something off a spaceship. I've never taken a profit out of it ever – it's only ever existed as my flagship. I want to make it sensational.
We're looking at a restaurant in Mykonos to open late next summer. We're also looking at Tokyo and Rome in the back end of next year too. There's over 1,200 people that work for the company now, so we have a lot of talent to draw on.
Have you visited any of Jason Atherton's restaurants? Let us know! Tweet us @goodhomesmag, post a comment on our Facebook page or share your kitchen pics on Instagram, using the hashtag #ThisGoodHome for your chance to win one of our monthly prizes!
RELATED ARTICLES