Contrasting colours and copper handles update this Shaker kitchen
When Mihaela Cozma and her family were seeking the perfect shaker kitchen for their newly renovated home in Penarth, South Wales, they decided to collaborate with Masterclass Kitchens…
PROMOTIONAL FEATURE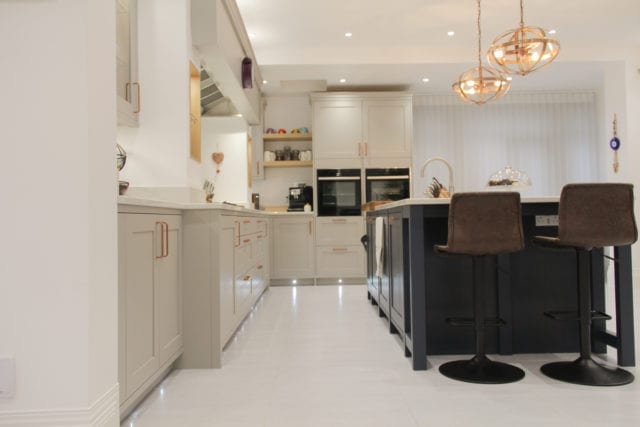 Image: Masterclass Kitchens
Shaker style
Mihaela wanted a 'cottagey vibe' within her shaker kitchen design. When she saw Masterclass Kitchens' Hardwick range, she fell in love instantly and knew it was perfect for her space. She also fell in love with the entertainment centres, adding that instantly to her must-have list.
Image: Masterclass Kitchens
The kitchen renovation was part of a whole-house refurbishment and the family chose to use Masterclass Kitchens products for their kitchen, utility room and boot room, ensuring a harmony of design and style.
Mihaela chose the striking Oxford Blue colour for her island with the addition of warming Farringdon Grey for the rest of her kitchen cabinetry. Adding more warmth to the colour palette, copper handles were chosen, which always look fantastic against a statement blue tone. The Portland Oak cabinetry adds an extra dimension to this bespoke-style kitchen.
Image: Masterclass Kitchens
Go bold with blue
Blue kitchens are on-trend within kitchen cabinetry and help this kitchen island deliver a punchy statement, while working together harmoniously with the warming tones elsewhere. Mihaela tells us that the kitchen island is her favourite feature, a place where the whole family can work or relax at the same time. 
Image: Masterclass Kitchens
An entertainment centre is another key feature of the room. This shaker-style media unit incorporates open shelving to add a touch of personality whilst offering practical storage, always much needed in kitchens. The Portland Oak shelving and back panel chimes with the kitchen cabinets and open shelving, creating a cohesive design.
Image: Masterclass Kitchens
Take up the mantle
A defining style of a shaker kitchen is a mantle. It was important to Mihaela that the kitchen included this feature. She worked with her designer to come up with the idea to include a mantle above with a tiled splashback underneath, which created a fantastic focal point in the kitchen.
Image: Masterclass Kitchens
The laundry room was another must-have for Mihaela. Although not directly attached to her new kitchen, she wanted to keep the link between the two rooms. She opted for the Sherborne range by Masterclass Kitchens in Oxford Blue. This practical utility space blends in with the kitchen, while providing a separate space for chores, leaving the kitchen a place to socialise and relax. To see more of the Masterclass Kitchens range, visit them online.