4 gourmet pizza recipes for all cooking abilities
From using storebought dough to whipping up a vegan or gluten-free base from scratch, try these recipes to up your pizza game.
Image: Waitrose
National Pizza Day is February 9th this year, and we don't need much more of an excuse to celebrate the humble pizza.
If you want to go above and beyond dipping into the freezer for a readymade offering to declare your love for pizza, we've got some fabulously extra recipe ideas for making your own.
From using a pre-made pizza base, to making your own dough, regardless of your dietary requirements, we've got you covered.
Soft cheese, pancetta and mushroom pizza
This quick and easy recipe from Waitrose uses a pre-prepared pizza base if you're not up for tackling making your own dough from scratch.
Prep: 10 minutes
Cooking: 10 minutes
Ingredients
270g Crosta & Mollica Pizza Base with Tomato Sauce
5 tbsp Philadelphia Original
¼ lemon, zest and a small squeeze of juice
1 portabella mushroom, cut into 1cm slices
5 rashers Cooks' Ingredients Italian Sliced Pancetta
1 tsp extra virgin olive oil
Small handful rocket leaves
Method
1. Preheat the oven to 220ºC, gas mark 7. Put a baking sheet on the top shelf of the oven to heat up. Place the pizza base on a sheet of baking parchment.
2. In a bowl, mix the Philadelphia with a squeeze of lemon juice; season. Use a teaspoon to arrange dollops of the Philadelphia mixture all over the pizza base. Arrange the mushroom and pancetta over the top. Slide the pizza base, still on the parchment, onto the hot baking sheet; cook for 10 minutes.
3. Remove from the oven and allow to cool for 1 minute. Drizzle over the extra virgin olive oil and arrange the rocket leaves on top. Grind over a little black pepper, scatter over the lemon zest and cut into slices to serve.
Watercress, blue cheese and butternut squash pizza
Image: Watercress
Make your own dough to create this rustic vegetarian-friendly pizza.
Prep: 1 hour 15 minutes
Cooking: 20 minutes
Ingredients
For the dough:
500g strong white flour
1 tsp table salt
7g dried yeast
1 tbsp caster sugar
2 tbsp extra virgin olive oil
325ml lukewarm water
Plain flour for dusting
For the sauce:
200g tinned tomatoes
2 heaped tablespoons tomato puree
Toppings:
100g grated mozzarella
75g blue cheese (we like Dorset Blue Vinny)
1 small butternut squash
50g watercress
Olive oil
Salt and pepper
Method
1. Pre-heat the oven to 200 degrees Celsius. Make the pizza dough by combining the flour and salt in a large bowl. Then take a measuring jug and whisk together the warm water, sugar, olive oil and yeast. Leave the liquid for a few minutes to allow the yeast to activate. If you can see lots of bubbles on the surface, then this means the mixture is ready.
2. Make a well in the centre of the flour, then slowly pour in the liquid. Use a fork to combine, then use your hands once the dough starts to come together. Mix with your hands until the dough has come together into a ball then turn out onto a floured work surface.
3. Now for the hard work! If you have an electric mixer with a dough hook you can use this to mix the dough, 4 minutes on a medium-high speed should be enough. Alternatively, do it the old-fashioned way and knead by hand for about ten minutes, or until you have a smooth, springy dough.
4. Dust a large bowl with flour then place the kneaded dough inside. Cover with a damp cloth and leave to prove in a warm place for about 45 minutes, or until it has doubled in size.
5. While the dough is proving, peel and de-seed the butternut squash. Dice into 2cm chunks, place on a roasting tray, drizzle with olive oil and season with salt and pepper. Put the tray into the pre-heated oven and roast the squash for 20-25 minutes, or until cooked through and beginning to colour around the edges. Remove from the oven and allow to cool.
6. While the squash cooks, make your pizza sauce by blending together the chopped tomatoes and tomato puree with a pinch of salt.
7. Once your pizza dough has doubled in size, tip it out of the bowl onto a flour-dusted surface and knead briefly, this is called knocking the dough back and removes the large air bubbles inside. At this point you could cut the dough into four and then freeze for up to two months if not using straight away.
8. If using your dough straight away cut it into four and roll the four pieces of dough into balls. Place them on a floured tray, cover with a damp cloth and leave to prove for a further 15 minutes.
9. Finally, your dough will be ready and it's time to make your pizzas! Take a rolling pin and, on a floured surface, roll out your four balls of dough to your desired thickness. Get two large pieces of kitchen foil ready and drizzle them with a little olive oil. Carefully transfer two pizza bases to each piece of foil, making sure that they will fit in your oven.
10. Spoon tomato sauce onto each base, using the back of the spoon to spread the sauce evenly. Scatter over grated mozzarella, then crumble over the blue cheese and dot with the butternut squash. Carefully transfer each piece of foil directly onto an oven shelf and cook for 20-25 minutes, or until the edges have started to colour and the base is cooked through.
11. Finally remove the pizzas from the oven, scatter over the watercress and cut the pizza into generous wedges. Serve with more watercress on the side and enjoy!
Gluten-free buckwheat pizza
Image: AO Life 
Don't do gluten? This easy base uses buckwheat flour instead for a tasty, crispy pizza.
Prep: 15 minutes
Cook: 20 minutes
Ingredients
For the base:
200g packed shredded Cavolo Nero
300g buckwheat flour
150ml warm water
2tbsp olive oil
For the topping:
200ml passata
3tbs tomato purée
1 medium onion
2 small garlic cloves
2 tins (112g) tuna in brine
3 half-fat mozzarellas
fresh basil
Method
1. Preheat your oven to 200°C (180°C fan). To make the dough, mix together the flour, olive oil and water, mix well and then knead until it forms a firm and fairly dry ball. Add a little bit more flour if needed. Set the dough aside and leave to rest whilst preparing the topping.
2. Crush the garlic with a garlic press and mix with the tomato purée and passata until well combined.
3. Half the onion and cut into thin slices.
4. Roll out the dough on a lightly floured surface until it's roughly the size of your baking tray. The dough should be relatively thin. Just fold over any overlapping dough – this isn't about perfect edges.
5. Now it's time to put the toppings on – the tomato mixture, then the onions and then the tuna. Simply rip the mozzarella into small chunks and scatter, put the basil leaves on top and drizzle with a little extra olive oil.
6. Put the tray in the oven and bake for 20 minutes or until crispy.
Vegan barbecue jackfruit pizza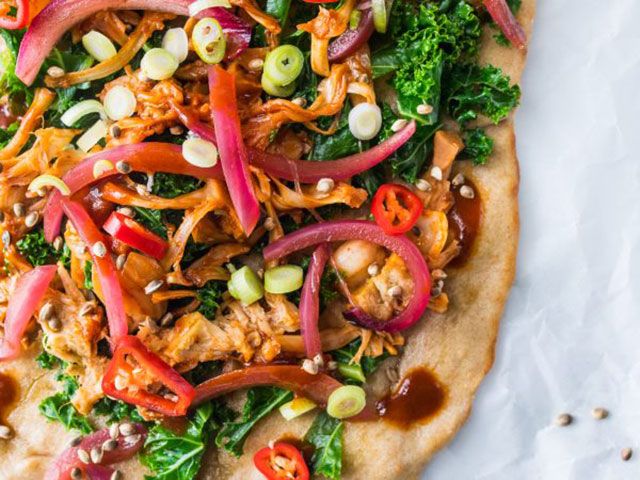 Image: Maple from Canada 
This colourful pizza is great for those following a plant-based diet who don't want to sacrifice on taste and texture.
Prep: 20 minutes
Cook: 10 minutes
Ingredients
For the base: 
350g plain flour
Salt
Pepper
2 tablespoons olive oil
150 – 200ml warm water
For the topping:
200g jackfruit
200ml barbecue sauce
2 red onions, sliced
500g kale
2 red chillies
20g hemp seeds
3 tablespoons sherry vinegar
1 tablespoon pure maple syrup
2 spring onions
25g pickled coriander (optional)
Method
1. Sieve the flour into a bowl with a pinch of salt and pepper. Add olive oil and mix in warm water. Stir to form a dough. Knead for 3 – 4 minutes, cover and rest.2. Roll until 5mm thick and place in hot oven for 2 – 3 minutes.
2. Blanche the kale in boiling salted water for two minutes. Remove and place in ice cold water.
3. Cook the jackfruit in the barbeque sauce and maple syrup until tender. Pull the jackfruit apart using two forks.
4. Pickle the red onions in sherry vinegar until tender.
5. Thinly slice the spring onions and chillies then set aside.
6. Place the blanched kale, jackfruit, red onions, chillies and spring onions on top of the cooked flatbread. Cover with barbeque sauce.
7. Cook in hot oven for 10 – 12 minutes. Remove from the oven and sprinkle with hemp seeds and pickled coriander to finish.
Are you celebrating national pizza day? Let us know by tweeting us @goodhomesmag or post a comment on our Facebook page.
RELATED ARTICLES