Buyer's guide to smart kitchen taps
From near-boiling to chilled, sparkling to filtered, these smart taps have a lot to offer your kitchen. Here's what you need to know before investing in one.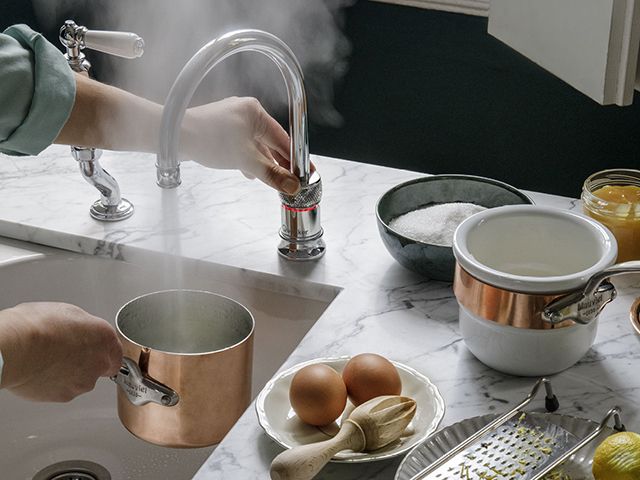 Image: Quooker
Kitchen taps are packed with more functions and features than ever before, all at once removing our reliance on energy-guzzling kettles and plastic-bottled drinking water.
They're undoubtedly the future of our kitchens, with new research from Grohe showing that 21% of new kitchens installed in the past 102 years featured one, but are you ready to invest? If so, take a look at our quick guide to buying your first smart kitchen tap.
What features do they include?
Image: InSinkErator 
Well, it depends on the make and model, but common features to find in more advanced kitchen taps include a boiling water function, in-built filter system, chilled water and even sometimes a sparkling water offering, as well as the usual hot and cold functions.
While you can find taps that offer dedicated functions, many combine these options with clever controls. The InSinkErator 4N1 Touch tap, for example, combines steaming hot water and chilled water functions.
How much do they cost?
Image: Grohe 
The more functions your tap includes, the more costly it's likely to be. Prices can range from several hundred pounds for entry-level smart taps to several thousand for a more advanced style. The ikes of the Grohe Blue Pure – a product that focuses on providing quality filtered drinking water, start from £359 – with this Minta style costing £575.
However, there are also some brands that may only feature a single smart function but still demand a high ticket price, down to the quality and prestige particularly associated with that brand. Prices for a Quooker Fusion hot tap, for example, start from just over £1,100.
Image: Quooker 
If you're questioning how you can justify the expense of a hot water tap specifically, then you could consider it as an investment in reducing both your energy bill and wasteage. The UK wastes £68 million a year in elecriticity boiling kettles according to the Energy Trust, and then not all water is actually used. A hot water tap provides the exact right amount of water on demand. It also saves your valuable time waiting for the kettle to boil.
If you do love your drinking water, whether still or sparkling, a filtered water tap means you can stop buying expensive bottled water, saving money and reducing your use of single use plastics at the same time.
How easy are they to install?
Image: Franke 
Comparatively, pretty easy. Each hot water tap comes with a tank that needs to be fitted under the sink, and as well as a cold water supply, you'll also need to have an electrical supply nearby for installation. Smart taps can be installed as part of your beautiful new kitchen, but if you just fancy an upgrade, they're relatively simple for a professional to retro-fit into your current kitchen.
While filtered water taps can run a long time before needing their filters changed, you may want to think about ease of access to do so. Or, if this is a concern, a product like Franke's Vital Capsule filter tap is unique as it's situated the filter system above the sink, making it super easy to change.
What else do I need to consider?
Image: Caple
Tank-size may be a consideration, depending on your needs. The amount of water that the tap can dispense in one go depends on the size of the tank, but with larger sizes, the price also increases.
If you have a young family, it's worth looking at the child-proofing measures your tap offers also. Most if not all, including Caple's Vapos 3 in 1 tap, have child-locks that will help to prevent children from scalding themselves while using the tap's normal functions.
Are you planning to buy a smart kitchen tap? Let us know by tweeting us @goodhomesmag or posting a comment on our Facebook page.
RELATED ARTICLES