Styling ideas for a spooky yet chic Halloween
Halloween doesn't just have to be for kids, and these grown-up decorating ideas for the your home just go to prove it.

Image: Liberte 4-seater sofa in Lucerne Navy Mix, Sofology 
Halloween is quickly becoming as big a deal as Christmas when it comes to decorating your home, with more and more retailers are introducing special spooky ranges.
However, if purple and orange are not your colour palette, and you'd rather invest more thoughtfully in frightful home décor, there are plenty of ways to bring bad vibes to your space this Halloween. What's better, these trending pieces are stylish enough that they can be adopted full-time into your decorating scheme, without leaving you feeling like your living in a haunted house all year round.
We've dissected this living room scheme by Sofology to show you how you can create your very own stylish-but-scary Halloween set-up.
Jewel tones
Image: Regal skull cushion, Audenza
A mix of dark walls and deliciously textured velvet jewel tones may translate perfectly into Halloween chic, but this style is already a popular decorating style. Play up with some more traditional Halloween motifs for October to give the room that frightful edge.
Mini pumpkins 
Image: Yulia Chinato
Of course you'll want a big, questionably-carved pumpkin for your window or front porch, but these mini gourds, available from most supermarkets, make great, temporary additions to your room styling. We love classic orange and white varities, but if you're looking to do something a little more exciting with them, consider giving them a painted makeover.
Floral displays
Image: Abigail Ahern
A bouquet of beautiful flowers may not be your first thought for Halloween decorations, but we think they can make a huge impact if you choose correctly. While pumpkin-like oranges may seem like a natural choice for the autumnal season, we love the drama of black-tinged reds and purples to add some drama to your scheme. These artificial peonies in plum from Abigail Ahern are great – they look like the real thing, but will last year after year.
Candles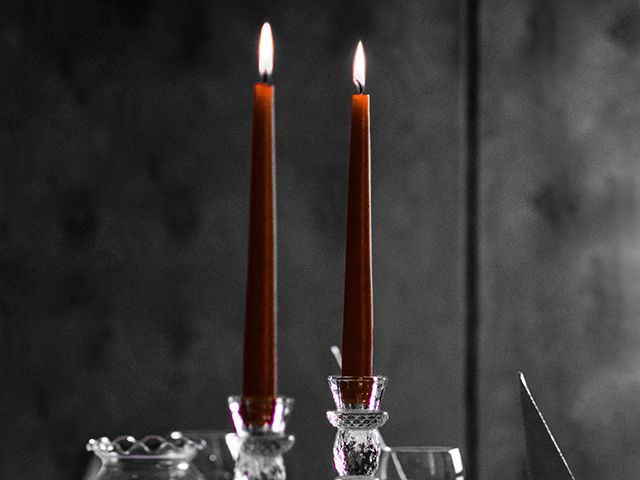 Image: Anuja Mary
Nothing quite beats the gothic glamour of a home burning candles to add to the lighting scheme. Group collections of pillar candles for a chic, classically horror-influenced look, and change out plain white dinner candles for these vampiric, blood red versions for Halloween – you can find a similar style on Amazon. Of course, be careful when burning candles, especially around any flammable Halloween decorations, and never leave them burning unattended!
Eccentric décor
Image: Rockett St George 
Maximalist, eclectic décor is more on trend than ever, but it can take on a new life during the spooky season. Try the likes of Graham & Green and Rockett St George for fun and eccentric designs – this beetle wall art and split head bookends will work particularly well for Halloween.
Portraits
Image: Mineheart
There's a huge trend for these 'altered' vintage portraits at the moment, where the traditional style is added to with an extra modern element over the top. They're great for period homes that want a quirky, contemporary touch, but they also work perfectly for adding some haunted house glamour to your home. You can find these wall prints from Mineheart, but you could also trawl charity and vintage shops for old reproductions and get handy with a paintbrush to give them an update.
Are you decorating for Halloween? Tweet us @goodhomesmag or post a comment on our Facebook page. Or, tag us in your own halloween decorating on Instagram, using the hashtag #ThisGoodHome.
RELATED ARTICLES