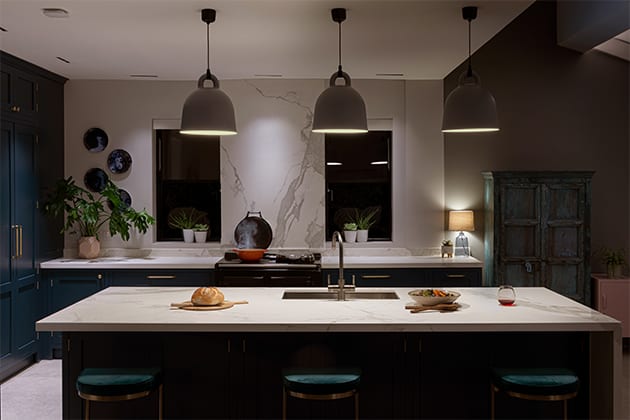 How lighting control can give you the perfect room
May 3, 2021
Discover smart systems that add both style and security
PROMOTIONAL FEATURE
There's no point in gorgeous décor if you don't have the right light to show it off. Smart lighting control systems let you experience the same room in different ways, while making your home safer for your family too…
Putting light first
Most of us design a room by choosing the things that we put into it. Then, finally, we work out what the lighting will be. Professionals do things the other way around – they think about lighting from the start, because they understand that lighting can change the mood of a room just as much as music does.
We usually spend more time considering the colour and fabric of a lampshade than we spend thinking about the device that will control it. A lighting expert would say that this is like picking your favourite music but not being able to control the volume.
Of course, in a modern home, one room will have many purposes, each requiring their own lighting. For example, to prepare dinner, bright task lighting is essential. But to serve the food, we bring the lights down to create an ambient dining experience.
Controllable lighting puts you in charge. It means you're free to create beautiful rooms no matter what time of day it is and what type of activity you have planned. It's easy to install and a joy to use. Your home is your showcase, it deserves to be seen in the best possible light.
Image: Lutron
Security and simplicity
Seamless control creates the perfect light for your home. Set the scene from anywhere using a smart phone, wireless remote or with voice activation. With integrations to leading voice assistants and audio systems, Lutron brings your home and your technology effortlessly together.
Automated blinds can be added to complete the picture. With Lutron's Smart Away feature the lighting in your home can mimic your normal routine when you're away, making it appear that you're at home, a great security boost for peace of mind.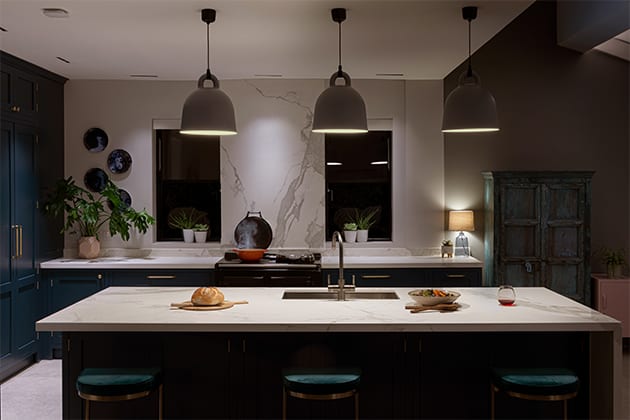 Image: Lutron
A light touch
Wireless lighting controls can be installed without tearing up the walls or pulling cables through ceilings. Wireless remotes allow you to add control wherever you want it. The slim, elegant remotes can then be wall mounted or displayed on a table-top pedestal. It's as simple as that.
Lutron invented the world's first electronic lighting control system 60 years ago, and the world's first wireless lighting control system in 1995, and their experience will help you navigate any problem you can think of with elegant solutions.
Click here to learn more and schedule a no obligation consultation with a Lutron PRO. To plan a virtual tour of their London Experience Centre, contact [email protected]