How to style our top high street Christmas tree looks
Get prepared for your festive decorating this year and be inspired by these stylish and budget Christmas tree looks.
Image: John Lewis & Partners
Festive glam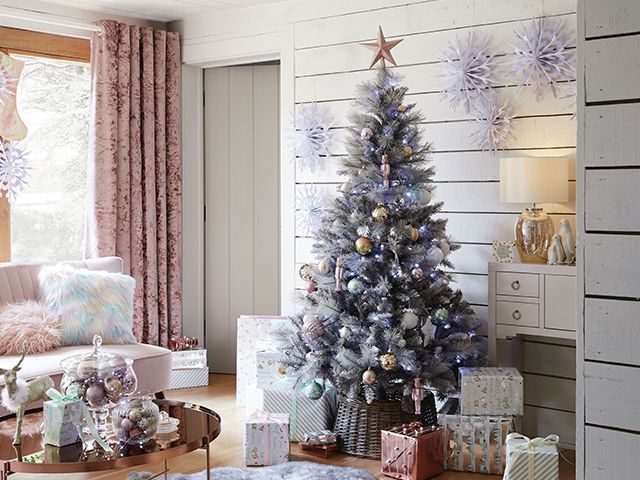 Image: Dunelm
Choose a glamorous look this Christmas with blush pinks and metallic silvers. Be inspired by this tree scheme from Dunelm – we love the frosted-tip tree paired with a rose gold topper.
How to style it
1. Stick to ice-cream shades to achieve this look. Mint greens, pastel pinks and lots of silver work best.
2. Coordinate your wrapping paper with your tree scheme. For this theme, rose gold paper accessorised with pops of pink is perfect.
3. Create a whimsical aesthetic with pretty baubles stacked in an opulent glass jar for a gorgeous table accessory.
Totally traditional
Image: Matalan
If there's one thing we can't resist, it's a classic Christmas tree. Red, gold and green are colours that are synonymous with the festive period and we love this design from Matalan.
How to style it
1. One of the key motifs for Christmas 2019 has to be the nutcracker. And what better way to incorporate it than into a traditional look.
2. Choose baubles that are traditionally festive such as candy canes and snow globes. A deep, green pine tree works best for this theme.
3. Give this look a woodland edge with rustic wooden touches, such as an antler chandelier or bundles of pine cones.
Scandi wonderland
Image: Argos
Dreaming of a white Christmas? Then this gorgeous Scandi-inspired tree from Argos might be for you. Fresh greenery, bright metallics and lots of white accents are key to this look.
How to style it
1. Accessorise your Scandi tree with sprigs of eucalyptus and other faux greenery.
2. Keep things clean with a wicker Christmas tree skirt to cover an unsightly base. You can jazz it up by wrapping fairy lights around it.
3. When it comes to baubles, think ice queen. Frosty blues and ice whites would be our top picks.
Intergalactic Christmas
Image: John Lewis & Partners
If you want to create a Christmas tree that is out of this world, look towards John Lewis & Partners this season. With bundles of neon colour and space disco motifs, it sure has us in the mood to party.
How to style it
1. Start with a colourful base. We suggest either a rainbow-coloured tree, neon LED lights or lots of rainbow tinsel – all three would be even better!
2. The quirkier the baubles, the better for this scheme. Check out our top picks.
3. Don't stop there, remember to dress the area around your tree with other fun bits and bobs. We're thinking neon lights, a scattering of balloons and lots of brightly-coloured wrapping paper.
Copper crush
Image: Wilko
If you're still very much crushing on copper like we are, then a copper and navy coloured tree might be the look for you this year. We're very much inspired by the above decorating style from Wilko.
How to style it
1. Amp up the metallics with an abundance of copper accessories; baubles, wrapping paper and tinsel.
2. Choose blue-coloured LED lights for your tree to complement your navy scheme.
3. A great gifting idea is to attach a bauble to each of your presents, it acts as an extra gift to the receiver, as well as letting everyone know what theme you're going for this year.
Go for gold
Image: George Home
Bring on the drama this Christmas with a tree look inspired by George Home. It's all about gold with this scheme, and lots of it!
How to style it
1. Surround your tree with on trend honeycomb decorations in jewel-toned colours for an up-to-date look.
2. The more gold, the better. Christmas is all about abundance and this look definitely shouldn't be subtle.
3. Carry on the gold theme by choosing sequined stockings and gold wrapping accessories.
What Christmas look are you going for this year? Let us know on social! Tweet us @goodhomesmag or post a comment on our Facebook page, or post a pic on Instagram using the hashtag #ThisGoodHome for your chance to be featured on our Instagram.
RELATED ARTICLES