How to make earthy tones work in your home
Interior design experts share five key ways to embrace this blossoming trend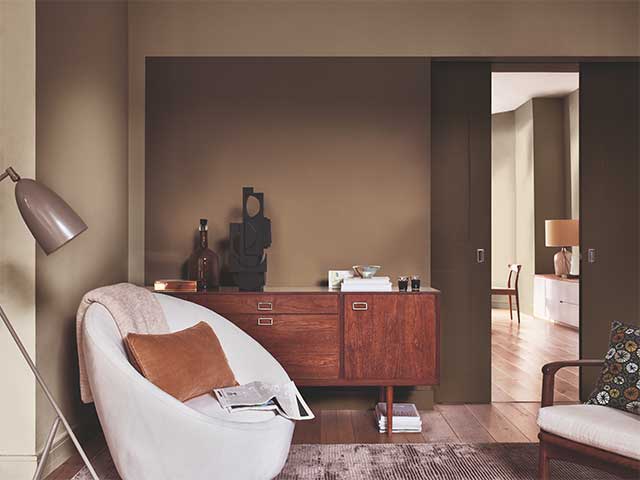 Image: Dulux
After a year spent savouring daily walks and any time outdoors, it's no surprise that online UK searches for 'earthy colours' have increased by 150% over the past year. Keen to bring Mother Nature into our homes, many of us are embracing rustic tones, calming colour palettes, and a cacophony of houseplants.
To help us embrace these earthy tones, leading sustainable heating company Rointe has reached out to colour therapy expert, Momtaz Begum-Hossain, and TV Celebrity Interior Designer & Co-Founder of La Di Da Interiors, Steph Briggs, for some expert tips.
1. Pair browns with brass for a sleek kitchen
Image: Go Modern Furniture
Just as a glowing campfire transforms a dark wood into a social setting, accenting a brown colour palette with hints of dew will add warmth to your space. Ideal for a kitchen or bathroom, opting for copper or brass finishes for your taps, sinks and handles will really compliment a darker colour scheme.
Momtaz says: "The brown spectrum can feel too dark in an interior when used on its own, but when you combine a chocolate brown with orange and yellow you transform the energy into one that's warm, uplifting and encourages socialising, so this palette is ideal for a kitchen." 
2. Bring greenhouse glam to the study
Image: AUDENZA
Pair mossy greens with rustic golds and other oxides to replicate the warmth of a tropical place. An impactful colour combo, this will work particularly well in smaller and more private areas like studies and snugs.
To up the outdoorsy opulence, Steph suggests: "Add layers of texture such as; raw ceramics, velvet sofas, cotton throws and linen curtains. A few statement metallic pieces such as vases, light switches with aged patina effects or statement gold leaf detailing will complete the look."
Antonio Dengra, CEO at leading eco-friendly electric heating company Rointe adds: "A stylish electric radiator in a coloured finish such as green or brown oxide, gold or pearly beige will complement the neutral palette."
3. Relax in the bedroom with mellow yellows
Image: MADE.COM
For a bedroom that brings back summer Mediterranean memories, you can't go wrong with golden hues like earthy terracotta, burnt sienna, and rich mustard tones.
"In a bedroom, terracotta, moss green and grey would harmonise together – the terracotta brings warmth, the green brings balance, while the grey promotes tranquillity," recommends Momtaz.
4. Bathe amongst sage tones and natural materials
Image: Tile Mountain
The ultimate holistic oasis, pairing green earthy tones with metallics and wooden features will make your bathroom feel like your very own treetop spa.
Director of Sanctuary Bathrooms, Richard Roberts, adds: "Green is often associated strongly with health, wellbeing and nature so it is unsurprising that this colour is heavily trending at the moment and more people are searching for green bathroom ideas. Many people are looking to green to help create their own spa-like experience in their own home."
5. Embrace marine colours and textures in the living room
Image: Snug sofa
Boasting an eclectic selection of indoor plants is a great way to bring nature into your living space. Plus, with their air purifying benefits, plants will inject a gust of freshness into your abode!
Therefore, pairing neutrals and blues with leafy foliage is a great way to achieve this serene and coastal look. In addition, Momtaz says: "If you're looking to make a more dramatic impact; design your living area so that your plants are displayed on different layers." So consider draping vines at different heights to draw focus to these natural textures and colours.
Are you planning to embrace the earthy tones trend in your home? Tweet us @goodhomesmag or post a comment on our Facebook page.

RELATED ARTICLES