5 ways to create a cosy lighting scheme
September 15, 2020
Autumn is just around the corner so time to make sure your lighting scheme is set up for a cosy ambience.
Image: Lights4fun
Cosy up your home for autumn by reconsidering the lighting choices throughout your home. When the days become shorter and the weather turns cooler, it's nice to transform your home into a cosy haven that makes you excited to come home.
A key element of creating a cosy ambience is lighting and there are many tips and tricks for putting together a successful lighting scheme, here's a few of our styling ideas.
Cluster lighting
Image: Fritz Fryer
Create your own showstopping chandelier by displaying lights in a cluster formation. It's a modern take on statement lighting and can be personalised to suit your personal style. Choosing your light bulbs is just as important, when it comes to creating the right atmosphere. An amber glow is perfect for a cosy and warming scheme, whereas a soft white light is ideal for working areas of the home.
Creating a focal point
Image: Original BTC 
Cosy up your kitchen for autumn with a trio of pendant lights. Creating a focal point is a great styling tip for zoning off your space, whether you want to draw attention to an island, breakfast bar or even just a section of worktop with stylish display shelves. For a uniformed look, hang your pendant lights in an identical fashion or if you want to try something a little different, try hanging them in a gradient.
A warm glow
Image: Davey Lighting
Incorporate a warm glow into your home with dimmed wall lights. A contemporary trend for bathrooms that we've seen all over Instagram is wall-hung lights as opposed to a standard ceiling light. Often hung either side of a bathroom mirror or vanity unit to create the perfect 'getting-ready' light – we actually love the idea from Davey Lighting which is displaying wall lights above a bath for a cosy relaxation area.
Lovely lanterns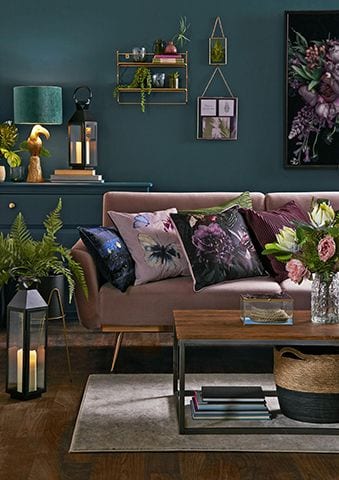 Image: Matalan
A staple lighting style for autumn/winter has to be lanterns. Whether you fill yours with a real candle or choose an LED option, the light that is created through a lantern is ultra warm and cosy. We love the idea of dotting them around a living space at different heights for a boho-inspired look and feel.
Whimsical lighting
Image: Lights4fun
Not willing to commit to full on lighting style changes? Add a few whimsical extras that transforms your home from a summer space to an autumn haven. Fairy lights are a quick, easy and affordable way to cosy up any room in your home. Drape across your headboard, mantelpiece, sideboard
Are you changing your lighting? Tweet us @goodhomesmag or post a comment on our Facebook page. 
RELATED ARTICLES