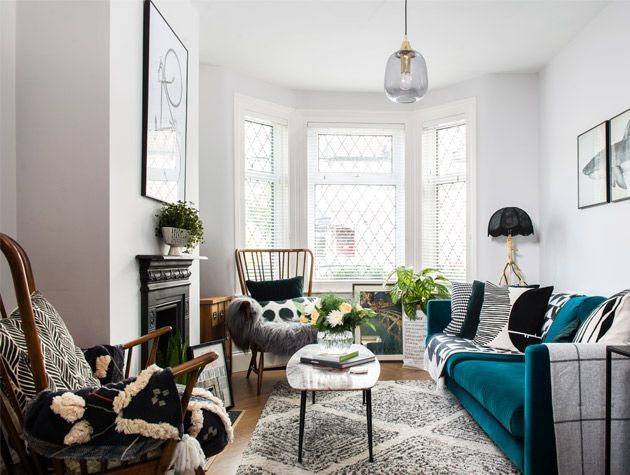 Tour this Scandi style meets mid-century themed Victorian terrace
When Lauren Sharkey set out to buy her first home, a renovation project wasn't on the agenda, but then a period property captured her imagination.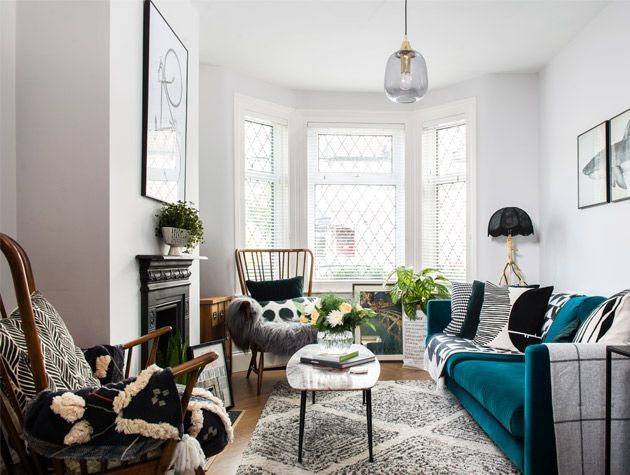 First-time buyers usually have to think creatively if they want to get their feet on the first rung of the property ladder, as Lauren Sharkey and her partner Harry Manley swiftly realised when searching for a home.
'We were renting a one-bed flat in Stoke Newington, north-west London, while saving to buy a house in the area,' she recalls. 'However, in the three years it took us to get a deposit together, our budget went from affording a two-bed apartment with outside space, to barely being able to stretch to a tiny studio.'
Disheartened by what they thought they'd be able to get for their money, it took a family Christmas with Lauren's parents to lift their spirits and turn their luck around. 'My family are from Watford,' she explains, 'and I had never considered moving back there. However, after hearing about our house-hunting difficulties, my mum found somewhere nearby on Rightmove in no time at all, amazingly.'
Initially, Lauren was hesitant to even view the property, but after some gentle persuasion from Harry, the couple arranged a viewing – and were delighted by what they found. 'It was the first time that we had seen an entire house within our budget,' she explains. 'The fact hat it needed a huge amount of work was barely an issue. After seeing plenty of awful flats with no outside space, the delightful south-facing garden clinched it for us.'
Convinced they'd found the home they had been looking for, Lauren and Harry wasted no time setting the events in motion that would put the keys in their hands.
Their three-bedroom Victorian terrace had been lived in by the same family since the Fifties. Although it had been well-loved, the decor was extremely dated and the owners had also ripped out a lot of the original features. 'There was no central heating, the wiring was ancient and the boxy rooms were not conducive to modern living at all,' Lauren remembers. 'The worst part of the layout was the bathroom at the end of the kitchen. It seemed such a shame to lose all the sunlight and the views outside.'
Tackling the kitchen makeover proved to be the largest project, as it involved removing the old bathroom, installing glass doors and skylights in its place, and sacrificing one of the bedrooms to house a new bathroom and a study. 'We also decided to get rid of the wall separating the living room and dining room to allow light, which now streams into the kitchen, to flood through the house and create a better sense of flow,' Lauren adds.
With the major structural work now completed, Lauren began designing the interiors. 'I love Scandinavian style,' she explains, 'but I wanted to reinstate the house's Victorian heritage as well, while also throwing in a bit of mid-century furniture.' As the couple agreed that their new, bright kitchen space was the most important room to get right, they started there first. 'It needed to be simple with clean lines, but also have a sense of fun,' Lauren says. 'And I knew I wanted dark-blue cabinets, but I then struggled to find a company that could provide them at an affordable price – until I came across DIY Kitchens' website. They could supply exactly what I envisaged, right down to the Farrow & Ball Hague blue paint.'
Sleek copper handles and angled gloss white tiles continue the kitchen's modern theme, which includes Lauren's pride and joy: a Smeg fridge. 'I've wanted one since I was about 10 years old,' she laughs. 'Although we had to make a few cutbacks to save money during the renovation, this fridge was not up for negotiation!'
Stepping from the brightest space in the house to the darkest – the central dining room – was a gear-change that Lauren was keen to play on when choosing the decoration. 'I decided to embrace the gloom,' she laughs, 'and create a bold, glamorous look, rather than try to make it lighter.' A strong mid-century theme can be found here, bolstered by Lauren's grandmother's cocktail cabinet, upcycled with wallpaper from Cole & Son; a striking light xture; and Ercol dining chairs, picked up from eBay at a bargain price. 'Our dining table was another steal,' Lauren beams. 'It was just £30 from a local charity shop. To restore it, I painstakingly sanded and stained it with Osmo Oil.'
In the adjacent living space, a special sofa purchase dictated the plush style of the rest of the room. 'I had spotted it on Swoon Editions' website months before we even moved in and absolutely adored the deep teal velvet,' Lauren recalls. 'I ordered it as soon as I could and the rest of the space evolved from there.' As a way of drawing the two linked areas together, Lauren found more Ercol furniture on eBay and also added a pair of cast-iron fireplaces, which she and Harry spent days refurbishing. 'My favourite piece in this room is the solid marble coffee table. You won't be surprised to hear it was another eBay find, but you may be at the price: it was the same as the dining table; just £30.
Keen to give each space its own distinct but complementary feel, each of the two bedrooms share the same confident approach to graphic patterns, but are demonstrably different. 'In our bedroom, I went for a calm feel with a few quirky touches, Lauren explains, 'whereas I wanted our guests to feel like they were on holiday at Club Tropicana!'
Unafraid of colour, Lauren opted for Valspar's ballroom slippers paint in the master, which contrasts beautifully with the white architectural features, and dollface in the guest room. 'It took some doing, but I convinced Harry that pinkypeach was making a comeback,' she grins. 'To avoid it becoming too overpowering,I only took it two-thirds of the way up the walls. The grey and black accessories not only make it feel more grown-up, but also add to that holiday vibe I was after.'
The new bathroom is a real celebration of the house's Victorian character, with an industrial mirror, vintage train sign, patterned floor and gold lettering on the door. The metro wall tiles are a classic 19th-century look too, but by using square instead of brick shapes it's brought the room right up-to-date. I then chose a slate grey vanity unit, simple sink accessories and a hanging plant to bring in the Scandinavian feel,' she continues.
Lauren and Harry's journey into homeownership may have had a rocky start, and perhaps a rocky middle – 'It was sometimes really difficult,' she admits, 'as the renovations took much longer and were more expensive than we thought' – but neither of them regret their decision to buy a Watford house rather than a London studio flat. 'It's such a rewarding experience to take each room back to brick and rebuild it exactly how you imagined,' Lauren says. 'Making decisions about every element of your home and then realising them yourself, with plenty of help from DIY YouTube tutorials, is often challenging, but it allows you to create something that's completely reflective of your own personal style.
We may have been naïve with regards to how much work was in store, but I honestly wouldn't do anything differently. I love the outcome and I'm delighted that we took on this project together.'
Words: Natalie Osborn, Photographer: Colin Poole