Tour this renovated Victorian terrace in north London
July 24, 2017
With her neglected Victorian house in north London requiring an almost total rebuild, Lesley Gallagher had her work cut out to achieve her vision.
Nobody could accuse Lesley Gallagher of being impulsive in her house hunting. 'I looked for years,' she admits, 'working through areas methodically. The whole time we were in rented accommodation, prices were going crazy.' Lesley and her family came to the UK from America when her husband, David, was offered a contract here, so they rented a house in north London. 'We were there for eight years, but then the owner decided to sell and so the hunt began for real.' She was very happy to find this house. 'I liked its position; on one side there was a retirement home and on the other a house with only two flats, so it was peaceful. It was also close to the children's school, and near a lovely park.'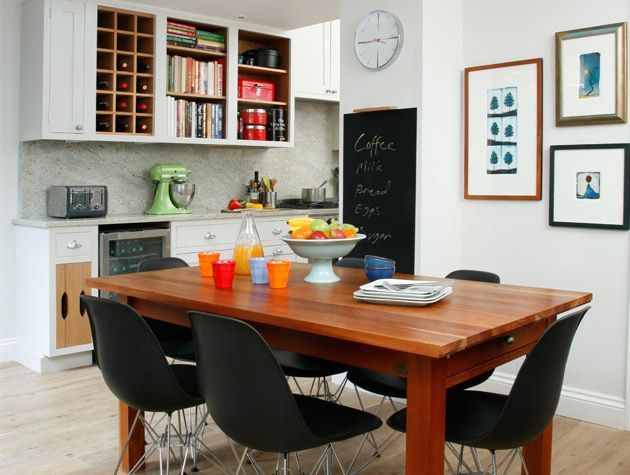 The house had been owned by an old man with hoarding tendencies. 'The sitting room door wouldn't open because there were piles of newspapers behind it. The fireplaces had been removed and boarded over. Once we'd agreed on a deal, I realised how excited but overwhelmed I was by the project ahead,' says Lesley.
Originally deciding to use a local contractor, work began with a complete gutting of the property. But once they'd finished the initial work and revised their estimate a few times north of what was agreed, Lesley paid them off. 'As luck would have it, I then found Mike Carsley and RMC Design Studio through a friend's recommendation. We got along so well, firing ideas off each other and having a similar vision,' she says. Lesley kept a book of ideas, many from interiors magazines and websites, so she could point out ideas to Mike to discuss and work on.
The project was a back-to-bricks one, involving the whole layout being reconfigured, as well as a loft and double rear extension. Underfloor heating was installed on the ground floor, and the whole house was completely rewired and the plumbed replaced. The envelope of the design was done by Mike's wife, architect Rachel Carsley. Mike then took over with the interior design and project managing. Mike specialises in joinery, and Lesley had very big plans for bespoke joinery in the house, with built-in cupboards and other storage in every room. All the joinery was built on-site by Mike and his team of master carpenters, and new double glazing, period sashes and the downstairs bi-fold doors were installed. 'We started with the loft and put a skylight at the top of the stairwell,' Lesley explains. 'This flooded the stairs with light, making a big change to the space, which surprised me.'
Wanting to put the character back into the house involved reinstating some fireplaces while removing others. 'In Matthew's bedroom, the fireplace had to go, but that caused structural problems, which involved more steel girders and more money,' Lesley adds. Certain ambitions had to be realistically managed from a budget angle: the custom-made doors that Lesley wanted for the kitchen extension, for example, were too expensive, so Mike suggested pocket doors as an alternative. In addition, these doors slide into their own niches, which saves on space. 'I decided on a restful Scandinavian palette of colours throughout – whites, greys, pale greens and blues,' says Lesley. 'Our aim was to create a light and airy space, but not super-modern. The balance between cosy and cluttered is a fine one, but I have a one-in, one-out policy on purchases, which helps keep the space fresh.' Little Greene's French grey paint has been used throughout the downstairs, apart from the hall, which is a deeper shade in skylight from Farrow & Ball.
One of the great things about this house is that even though the downstairs rooms lead one from the other and are open-plan – which means it's great for family time and entertaining – everyone also has space for me-time. The children have built-in desks in their bedrooms for homework, and when their friends come over they can go up in the loft to hang out and watch TV with them. And there's also a pull-out bed and a bathroom up there, for overseas guests or teenage sleepovers, too.
'The cosy feeling we get when we walk through the front door is well worth the effort and stress of finding and renovating our home,' a happy Lesley says.
Photography: Alison Hammond