Step inside this beautiful family home in Taunton
May 12, 2017
Mel Thorne could see a neglected house in Taunton just needed a little love and a lot of hard work to become a beautiful home.
Moving from Windsor to Taunton was the start of a whole new life for Mel Thorne, her husband Mark and their toddler Bosley. Mark was to begin a new job with the Environment Agency and Mel had just bought an interior design business based in the area – Country Knole Interiors. There were two other big persuaders: returning to be near family and friends, and Mel's father Rick was a dab hand at DIY and only too willing to help them renovate.
When Mel first spotted the Thirties semidetached house on the estate agency's website she was not too impressed, but when she went to take a look around she realised it was exactly what she was looking for. 'I really liked its spaciousness and warm family feeling,' she says, 'but it clearly needed updating.'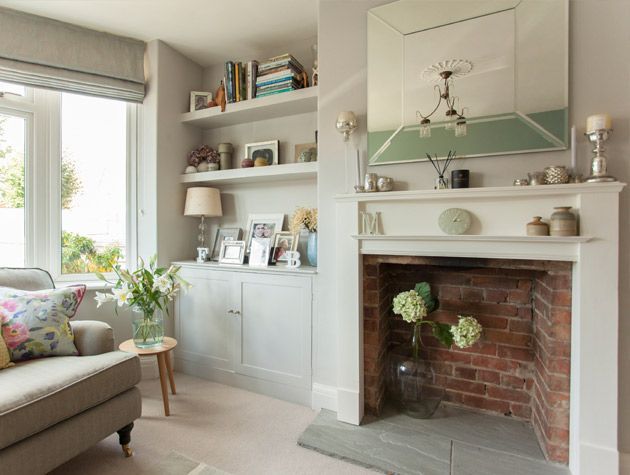 There were different floor levels between the hall, dining room and kitchen, which had a cramped galley layout. Damaged Thirties tiled fireplaces were still in place and there was wood-chip wallpaper nearly everywhere. The gas pipe also stopped short in the hall and water pressure was low. 'Little did we know that after moving in we'd begin two-anda- half years of building work,' Mel remembers.
The first rooms they tackled were the kitchen and dining room, where Mark and his brother Chris removed two walls: one to create a large kitchendiner and another to incorporate the old scullery. They then levelled the varying floors throughout the downstairs and blocked up the scullery window. 'Our builder Brian completely replastered the new kitchen-diner and we extended the gas pipe into it,' she says. 'He also replaced the water mains.'
Mel's father laid a new black slate floor and fitted kitchen cabinets from Wickes, along with dark walnut surfaces from Worktop Express: 'I wanted full stave worktops with broad planks, not the usual narrow type,' says Mel. The space is now gently zoned by a breakfast bar, and features a charming chimney breast and fireplace. Strengthening the characterful theme of the room is the vintage furniture, which Mel painted in the same hue as the walls, so the exposed bricks could become the main centrepiece.
Beyond the kitchen was an uninviting garden room; a partially glazed wooden frame that was cold in winter and much too hot in summer. 'Dad insulated it by boarding and plastering the walls, and we installed film within the Perspex roof, to reflect the heat,' says Mel. Roman blinds now provide a softer alternative to wooden or plastic shutters. In the living room, Rick took out the damaged original fireplace and replaced it with a more attractive surround, which Mel had found on eBay and then painted. 'I also laid a slate-tiled hearth and exposed the brickwork inside,' she recalls. Beautiful built-in cupboards, made by Mel's dad, flank the fireplace, complemented by thick, floating shelves in the same shade on the wall above.
As for the bathroom, when the Thornes moved in, the scheme was a symphony of black-and-white tiles from the Eighties. 'Dad gutted it and I asked the builder to block up one window and make the main one smaller, as they were restricting the layout,' says Mel. 'That way I was able to make space for a big new shower, as well as a large tub.' The final elements were the new tongue-and-groove panels and tiled floor and walls, plus a statement sink atop a chunky vanity unit – ideal for hiding all the family's toiletries.
'No room has been left untouched,' she continues. 'In two bedrooms we put in new, attractive fireplaces, and in Bosley's room we rehoused the boiler in a purpose-built floor-toceiling cupboard. We also stripped out all the unwanted shelving and yet more wood-chip.'
In the master suite, a gathered bedspread and iridescent wallpaper combine to create an elegant, considered scheme. However, decorating it wasn't all plain sailing. 'We had just finished the whole space when some delivery men came in and accidentally ripped the wallpaper,' grimaces Mel. Meanwhile, builder Brian was busy outside, replacing the cracked roof tiles, fixing leaky flashing on the chimney and replacing all of the 80-year-old gutters. He also painted the exterior of the house, and they all worked on the landscaping. 'The garden room now leads on to decking and we replaced the fencing, too,' says. 'It's a lovely place to entertain in the summer, especially as Mark and the children like to grow sunflowers every year.'
Looking back on the last two years, Mel wonders how they managed it all. 'It took a long time to complete and there came a point when I gazed around and wondered if we'd ever get there. Everything was in a mess, wires were hanging down and there were holes in the floor that made walking around precarious, especially with a toddler.'
However, thanks to the Thornes' good eye for design and DIY skills, the Thirties house has started a new life – just like its owners.
Words: Victoria Jenkins, Photographer: William Goddard