See inside this colourful retro style home in Surrey
Retro furniture and colourful accessories give Petra Tyler's Surrey home individuality and plenty of character…
Moving from her home in Berlin to study English in the quaint Dorset town of Bournemouth when she was 20, was a bit of a culture shock for Petra Tyler.
'I missed the arts and culture that comes with a German city steeped in history,' she admits. So, after a few years of seaside living, she made the decision to leave the coast to be nearer the bright lights of London with her daughter Mia. With its close proximity to the capital, great schools and café culture, East Molesey in Surrey proved to be an excellent spot for the family to settle down. 'Living where we are now gives us the best of both worlds,' she explains. 'We're in a quiet street just a short train-ride away from town.'
After a stressful couple of months spent house hunting, the first property Petra made an offer on fell through and she almost lost Mia's school place in the process. But, as luck would have it, the property next door to this went on the market soon after. 'Fortunately, this one was even better than the original, so everything just fell into place after that,' she recalls. It was in a very basic condition, with beige walls, laminate flooring and lacking in period charm – in short, a fantastic blank canvas for Petra to work her interior design magic on. But what really swung it was the river at the bottom of the garden. 'Having the Ember so close is something we hadn't been looking for,' she says. 'I fell in love with the idea of keeping a boat. We spend more time on the water now than we did when living in Bournemouth.'
As soon as she received the keys, Petra got stuck into turning this uninspiring three-bedroom detached house into a warm and inviting family home. Despite only having a small budget at her disposal, she set about packing clever details and tricks into every corner. 'I love being smart with design,' she explains. 'Anybody can rip out a whole interior and start again, but what I find exciting is the challenge of creating stylish and practical ideas on a shoe-string.' The layout itself hasn't been changed, but she has put her own individual stamp on it. 'Fortunately, I didn't have to splash out on expensive structural work,' she says. 'The jobs were mainly decorative, and I indulged in choosing expensive wallpapers and accessories.'
Petra's eye for detail has enabled her to keep a harmonious feel throughout, even though it's a house brimming with colour and pattern, as well as old and new pieces. 'I've always been passionate about interiors,' she says, 'and after a successful career in marketing, I went back to college in 2011 to study at KLC School of Design at Chelsea Harbour.' Initially, she worked as a residential interior designer, before setting up Petra Tyler Designs, which she combines with her day job: 'I am head of marketing for an architect's firm, so I'm always surrounded by beautiful creations.'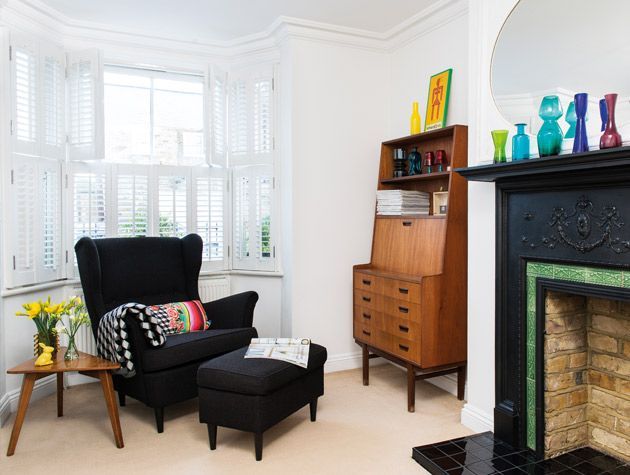 To give her home more of an Edwardian feel, wallpaper features heavily, with iconic prints from Cole & Son making appearances throughout. Once all the walls were painted and papered, Petra enjoyed finding places for her collection of vintage and retro finds. 'As I used to live in the Gropiusstadt area of Berlin, which is named after the German architect and founder of the Bauhaus art and design movement, it's fitting that I love furniture that's typical of the early-20th century,' she explains. 'I source pieces in charity shops and on eBay. I love the fact that most of my purchases are pretty unique: for example, the carpentry skills used to make the teak furniture I've bought are different to those mass-produced for today's high street.'
The most expensive job inside was replacing the unattractive uPVC windows with timber sash designs, which are more in keeping with the age of the property. Petra also repainted all the walls in warm shades of pale grey to give the space an elegant, contemporary feel. When the price of cast-iron radiators proved prohibitive, she transformed the dull, white models with coats of dramatic black metal paint. This is a relatively inexpensive trick that also works well in the kitchen. 'The units are a basic Ikea design,' she admits, 'but the addition of dark-grey paint and quirky doorknobs make it look less high-street, and it fits much better with my nostalgic style.
Being thrifty as well as practical, Petra left the bathrooms as they were, even though they're not entirely to her taste. 'They're finished in good-quality tiles, so it would have been a waste to rip it all out.' Instead, bright towels help to lift the neutral scheme. 'Scrapping everything and spending considerable amounts of money is far too easy,' she states. 'I prefer to make the most of what I'm given.'
The dated conservatory extension at the rear of the property is a great example of her approach to renovations: she painted both the inside and out in a dark-grey hue to match the back of the house, giving it a contemporary feel. 'This is where we spend most of our time,' she explains. 'With the tinted glass roof keeping the glare of the sun away in summer and underfloor heating, it's usable all year round.'
The only major work carried out on Petra's gorgeous home was in the garden, as it was covered in slate chips and the fence was dilapidated. She designed a studio with an integrated shed, seamlessly flowing into a decking area that she's most able to enjoy during the summer months. Petra loves the riverside home she's created, but she's now ready to take on the next project – all she has to do is find it.
Photography: Colin Poole