Q&A with Rock N Roll Bride Kat Williams on her kitchen makeover
April 25, 2018
The founder of the alternative wedding magazine has updated her kitchen for Revamp, Restyle, Reveal. We got the lowdown on how she renovated and refreshed her kitchen design with pops of colour, copper accents and by changing the layout.
Image: Kat Williams
Along with nine other interiors bloggers, founder of Rock N Roll Bride magazine Kat Williams, accepted the challenge of renovating her kitchen in an ambitious four weeks.
With the help of husband Gareth, Kat transformed her small kitchen by changing the room's layout to maximise space, and cleverly used pops of vibrant pink and copper accents to inject character into their period property.
We chatted to Kat to find out how she turned around her renovation in one month, and the inspiration behind the bursts of colour that make up her decorating scheme.
Talk us through the concept featured in your revamped room?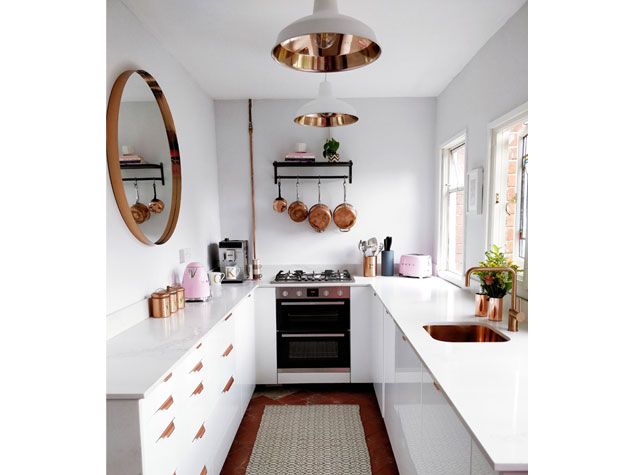 Image: Kat Williams
Our kitchen is very small (about 3 x 5 metres). An extension is in our grand 'one day when we win the lottery' plans but for now we just need to make the small space work for us. In a nutshell, the space was a disaster. Nothing matched or fit together properly (the appliances didn't even fit under the units!) there was an awful yellow mural on the wall and in place of one of the windows the previous owners had blocked up a door with some chipboard, painted it shut and stuck a worktop in front of it. I kid you not!
We changed the layout to a U shape to maximise the space. On the left-hand side, we now have half size units at the top and bottom so the gangway is slightly wider, the oven has moved to the end, the sink has moved up on the right-hand side slightly and we extended the right-hand side worktop a few feet so that a) it actually covers the appliances and b) it gives us more work space.
We've also painted the back wall bubblegum pink, moving the fridge and creating a small little comfortable seating area for us to chill out in in the morning.
Talk us through the before and after.
As you can see, we've gone for a bit of copper with a dash of pink theme. As the space is so small we knew we needed to everything we could to make it feel as big as possible. That meant lots of white, clear surfaces and a cohesive theme.
One of our tricks was to have half depth units on the left hand side to widen the middle and it's made SUCH a difference. We also currently have no wall-mounted cupboards which helps make the room feel bigger, but we will need to add some at some point as right now there's only one cupboard with actual food in it
What design elements have inspired it?
Image: Kat Williams
Copper and pink are my jam. Having a galley kitchen, we knew we wanted to keep lots of it white to maximise the space but all-white would also be very boring. I started looking at Pinterest and on interiors blogs and Instagram accounts and was, unsurprisingly, very drawn to anything clean and white with pops of colour.
What, if anything, did you make yourself?
Image: Kat Williams
EVERYTHING. Literally. My husband, Gareth, did everything he could himself (except connecting up the new gas hob, which he's not legally allowed to do!). He taught himself to brick lay and plaster with YouTube tutorials. He's a champ! I pitched in with the more low-key tasks like painting and hanging pictures.
What do you think is important to consider when decorating a room like this room?
Image: Kat Williams
How to maximise a small space and also how you'll actually use the room. It was quite daunting initially, trying to figure out where we'd place everything but then a friend gave me some great advice – think about how you actually use the room. For example, you'll probably rinse your plates before putting them in the dishwasher – so put those near each other so you're not walking to the other side of the room every time. Have things you'll need to cook with close to the oven. It seems silly and obvious now but it really helped us figure out our layout.
What key interiors pieces do you think make the room and where are they from?
Image: Kat Williams
Some of the things we're most excited about are our copper pendant lights from David Hunt Lighting, the amazing brushed leather chesterfield armchair from Maison de Monde and all the appliances from AO.com!
What do you think makes a house a home?
Image: Kat Williams
Family. At the end of the day, having nice décor is lovely but without your family it's simply a shell that you sleep in, not a home.
What are the main advantages of redecorating a period property over a new build?
I've never been a fan of new builds. I don't like the way they look, I don't like the construction I don't like the small gardens… I've always grown up in older properties so buying something with some character was top on our list of priorities when we bought this place.
I love the history of the house and all those added ornate details that you just don't get in newer homes. It's very satisfying to feel like we're almost rescuing an old property that was falling into disrepair after years of being unoccupied.
What's your biggest trend prediction for 2018?
I'm all about having things in your home that make you happy and you think are beautiful, whether they're in fashion or not. Trends come and go but your personal style is what will really make your home a wonderful place to be.
Can you share some of your top decorating tips with us?
Image: Kat Williams
Plan everything out before you begin. We literally got graph paper to plot our layout out first and picked all the products we wanted to use together, before we began any work. This meant both my husband and I were on the same page from the beginning.
Why is Revamp Restyle Reveal such a great campaign to get involved in?
It's been so amazing to be set such a fun challenge and – crucially – to have a deadline to get it done! It's really kept us on our toes and forced us to keep going with it, even when it's hard!
It's also fostered an amazing community between all the bloggers taking part. We had a private chat group going where we could ask advice, share our updates and howl with laugher at all our mishaps along the way. It's been so amazing to connect with other people who are passionate about their homes.
Are you a fan of Kat's kitchen makeover? Let us know by tweeting us @goodhomesmag or post a comment on our Facebook page.
RELATED ARTICLES