5 modern decorating ideas from a renovated Victorian house
If your period property is in need of a refresh, take heed of homeowners, Guy Stockwell and Victoria Hart's, industrial-meets-Scandi style renovation of a Victorian home.
Image: David Woolley
Guy Stockwell and his partner Victoria Hart dreamed of moving their growing family into a Victorian semi, but there was no way they could afford to do so in London. However, they had a trick up their sleeve. 'Victoria grew up in Brighton and I'd always thought I'd love to live there. It's such a vibrant little city, similar to London in many ways, but so much more affordable,' Guy explains. 'We made the jump to a Victorian three-bedroom house quite easily.'
Although their budget for renovations was tight, they had a clear vision: a bright, blank canvas that celebrates the Victorian features while acting as a backdrop to the couple's unique new-meets-old, Scandi-meets-industrial style.
Read on to steal Guy and Victoria's modern-meets-retro look, and discover how an old house can give way to modern life.
Tell a story with retro wall art
Image: David Woolley
Add pops of colour to white walls by introducing unexpected or unusual wall art into your decorating scheme and choose eye-catching retro typography or vintage artwork
Add cosy touches to industrial design with soft furnishings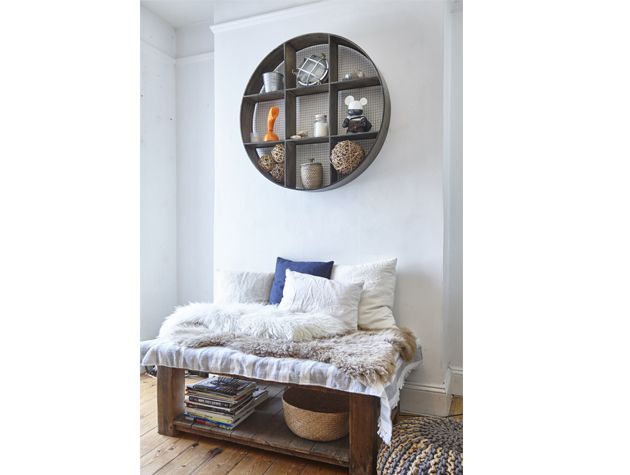 Image: David Woolley
To achieve the industrial-Scandi look, add plenty of cosy touches to your bedroom or living room such as shagpile rugs, snuggly throws, textured cushions and knitted footstools to ensure the house is a comfortable place in which to sit back and relax.
Add interest with shelving to display your most treasured ornaments.
Choose a neutral colour palette to get the Scandi-meets-industrial look
Image: David Woolley
Both Scandi and industrial decorating schemes share a neutral colour foundation. They use colour in calm and completely collected way: tonal shades of grey and taupe, with warmer whites and natural materials.
Get the look by opting for Scandi-style oak flooring, wicker storage baskets, soft grey furnishings, a mix of plush cream, stone and deep blue cushions, and treat your toes to a soft rug underfoot.
Bring a simple scheme to life with energetic pops of colour
Image: David Woolley
Let energetic primary hues burst from white walls to bring a simple scheme to life. This approach to decorating is perfect for children's bedrooms to create a space where they can snooze soundly and play until their heart's content.
Set modern design classics against old pieces
Image: David Woolley
Highlight any existing period features in your home, such as restoring an original fireplace. Add charm by placing trinkets, indoor plants or on-trend ornaments on the mantlepiece above, or create a Scandi statement with ski lodge-inspired decor.
Words: Natalie Osborn, Gemma Parkes
Peek inside more ideas-packed properties and uncover all of the clever decorating secrets that make them work – as told my the owners themselves in Good Homes' Wow-Factor Homes bookazine – available to buy instore at all WH Smith across the UK.
Are you a fan of the Scandi-meets-industrial look? Let us know by tweeting us @goodhomesmag or post a comment on our Facebook page
RELATED ARTICLES
Tags: period property