Stylish outdoor living area design ideas
From weatherproofing fabrics to making the most of small outdoor spaces, Good Homes talks you through how to create the perfect outdoor space for spring summer entertaining, whether you have a garden or a patio.
Image: Sainsbury's Home
Spring has officially sprung and we are officially looking forward to alfresco living on lazy sunny days. Make the most of summer with an outside living room. Just pick your spot, choose your garden furniture and accessorise for the personal touch.
From formal entertaining areas to laid-back lounging and cosy reading corners, there's so much you can do with a bit of patio. Here's how to create a second living room – in your back garden.
Choose your spot
Image: Out There Interiors 
You may not have much choice when it comes to where to put an outdoor living room, but the positioning of your furniture is crucial. Consider how each piece will be configured and which way it will face.
In a tiny courtyard, it may be better to choose a corner rather than place furniture centrally. In a larger garden, take the position of any trees, hedging and flower beds into account and choose a position that is aesthetically pleasing.
Seek sun – and shade
Image: Nest.co.uk
Consider the tracking of the sun and where might offer shade as well as sun. Factor in creating your own shade if existing planting, trees or buildings do not provide it.
Is it possible to add shade without blocking out views across the garden? Flexible solutions, such as retractable awnings or adjustable garden sail shades and umbrellas are worth considering. Or include permanent structures, such as pergolas or gazebos. Fit them with trellis for climbing plants and you will be able to enjoy dappled rather than full shade.
Create a reading corner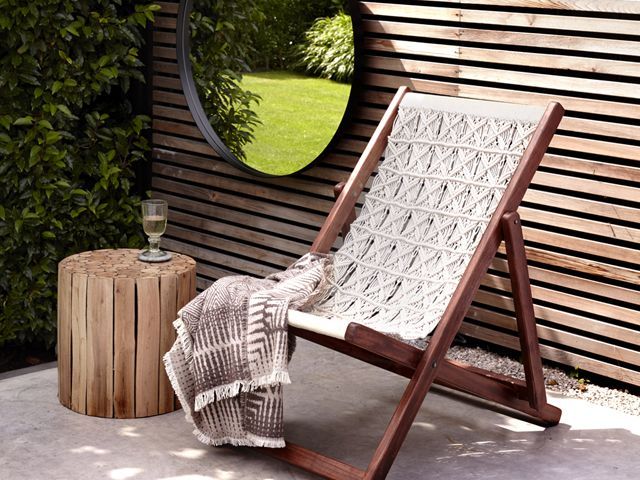 Image: French Connection
Outdoor living areas don't have to be formal with the equivalent of sofas and armchairs. Find a quiet spot that will take a bench and flagstones.
Dress the space with scatter cushions and potted plants and consider painting a wall if you have chosen a sheltered spot near the house.
Go for laid-back lounging
Image: Tesco Home 
Liven up weather-worn garden seating with outdoor cushions and seat pads. Incorporate storage under benches so you can pack everything away in the winter.
Bring shelter to the spot with dense planting and take battery-powered outdoor lanterns into the foliage for dramatic plays of light, pattern and shade.
Pick a party colour scheme
Image: Sainsbury's Home
Choose contrasting shades of vivid blue and postbox red for a party feel. Go for outdoor fabrics that are hardwearing and easy to clean and cushion designs that can be used on floors as well as furniture.
Bring in co-ordinating wooden tables, rattan footstools and quirky, oversized lanterns and throws.
Decide on a look and stick to it
Image: Sainsbury's Home
Pick the style you want from your outdoor living room and take it all the way from furniture and upholstery to backdrop, decoration, accessories and glassware.
This Moroccan theme permeates from the wicker-style furniture, bamboo screening and potted plants to the burnt orange, sunny yellow and lush green of the soft furnishings.
Summer-proof your patio living room
Image: Cuckooland
To make the most of your outdoor garden room you will want to make as much use of it as you can. Provide shade for the hottest of days and warmth for the chilliest of evenings.
Hang a sail-type canopy for relief from the heat when the sun is at its highest or consider fencing and garden structures that throw intermittent shadows rather than casting a whole area into solid shade.
Keep cooling drinks and ice buckets on tap and cosy blankets to hand so that everyone is comfortable no matter what the temperature.
Have you got your outdoor space ready for summer? Share a photo by tweeting us @goodhomesmag or posting a comment on our Facebook page.
RELATED ARTICLES
Tags: garden design, outdoor living