Chelsea Flower Show inspo: garden styling tips from Selina Lake
May 13, 2020
Stylist Selina Lake gives her garden a Chelsea Flower Show-inspired makeover and offers her top tips for creating a stylish scheme in your own outdoor space.
Image: Selina Lake 
Selina Lake is a much-celebrated stylist and author, who works with top magazines to create beautiful interior photographs, including Good Homes magazine! However, her magic touch extends out into the garden too, and last year, her work on a trade stand at the Chelsea Flower Show earned a 5 star review, while this year she has plans to collaborate with Gold Medal winning designer Jo Thompson on a design for the show.
Though this project is on hold during lockdown, the Chelsea Flower Show is launching The Virtual RHS Chelsea Flower Show next week, so in celebration, Selina has turned her attention to her own garden she shares with husband Dave in Surrey.
"For me, the RHS Chelsea event means a week full of floral inspiration. As the show is going virtual this year, I thought it would be fun to put a short video together to share how I'm paying homage to the wonderful event," she explains. "I hope I've given you a few ideas for #stuylingsomechelseamagic in your own gardens or at home."
Create a theme
To create a coherent look, decide on a theme for your garden styling. "I was inspired by a linen fabric from Baker Originals Collection and the array of flowers that are currently blooming in the garden," says Selina.
Work with what you've got
Image: Selina Lake 
You don't need to invest a lot into creating a stylish garden styling scheme. "Repurpose bed sheets as tableclothes, old jugs as bases or recycle glass bottles to use as bud vases." Borrow cushions and throws from indoors and dig out party decorations.
Make use of garden flowers

Image: Selina Lake
If your garden is coming into bloom, why not make the most of what is has to offer? You can always supplement with some store bought, or online order, bouquets. "I mixed some of my garden flowers wisteria, viburnum and orange geums with a bucket of locally grown blooms which included deep purple tulips, peach pink ranunculus and white anemones."
Craft new pieces
Image: Selina Lake
"Have a go at making your styling props to use," suggests Selina. She made these garden cushions with matching napkins from the Baker Originals fabric, and the tablecloth was just a ream of fabric cut to side. Who has time to hem anyway?
Use your shed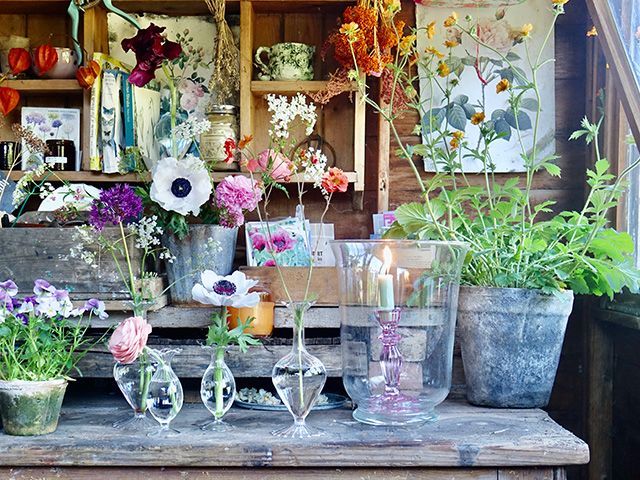 Image: Selina Lake 
Selina Lake's latest book, Shed Style, is full of ideas for making the most of all kinds of garden buildings. "I added a few extra touches to my shed interior for this project… including vintage Chinese lanterns, candles in jars nd a botanical wall chart."
Any of your own tips for styling a garden? Let us know on social! Tweet us @goodhomesmag or post a comment on our Facebook page.
RELATED ARTICLES