Patio flooring: a buyer's guide
Creating the perfect outdoor space needs a good foundation – but which kind of outdoor flooring should you pick for your patio?
Image: Good Homes
Choosing a material for your patio is all about style and durability. But with so many styles of outdoor flooring available, where do you start?
Take a look at some of the key types of garden patio and discover the pros and cons.
Decking
Image: Cuprinol 
Timber decking is a brilliant way to bring warmth to your space, and construction-wise, it can erected over the existing floor, making it an easy style to add in even on uneven ground. However, if your decking is over 30cm above the ground, you may need to add balustrades to meet planning regulations.
To ensure your decking avoids warping and cracking, invest in high-quality FSC-certified wood. Pressure-treated softwoods such as pine or redwood are a less expensive but reliable option to more expensive hardwoods, but ensure you're always using timber impregnated with preservative to last outdoors. They will also need to be sealed every other year to avoid rot.
Traditional ribbed decking offers a classic look that's low-slip, and while flat wood decking offers a contemporary option.
Composite decking
Image: Millboard
For an eco-alternative to natural timber, composite decking is made from recycled materials including timber, sawdust and reclaimed plastics. This kind of decking also boasts superior durability, and can resist UV-damage and scratches much better than traditional wood decking while offering a natural look.
Porcelain tiles
Image: Axis Grey porcelain tiles, Tile Giant 
Fired at a high temperature, porcelain is very tough. It's frost-proof and highly unlikely to crack. Ensure you buy an outdoor floor tile with anti-slip properties. The range of designs porcelain comes in is vast – everything from natural stone effect to wood and patterned tiles can be achieved with a porcelain tile
Pavers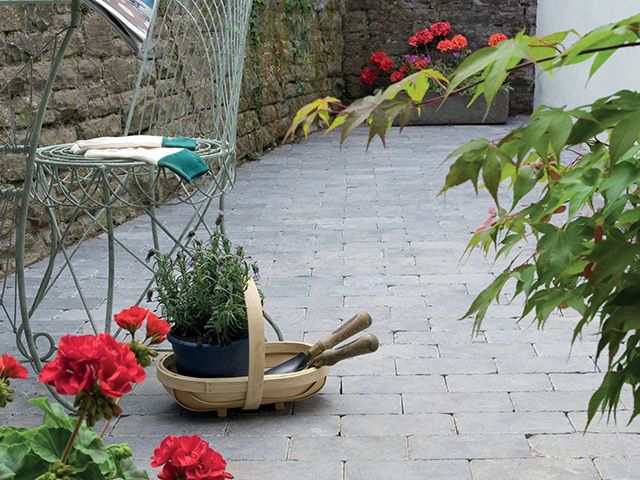 Image: Ballaston tumbled limestone, Mandarin Stone 
Pavers offer a classic base for your garden, and materials range from natural stone to concrete.
Stone offers a natural way to add character, with limestone, slate and sandstone options all appearing different, but each will come with a different pricepoint. Concrete pavers are a basic, affordable option that can look great in the right garden.
When it comes to paving, choose large-format paving for a modern look or a mix of random-sized slabs for a more traditional look.
Gravel
Image: Good Homes
Gravel is super easy to install, and doesn't require any of the work to make right and slightly uneven surface. It's available in a range of styles, shapes and colours to match any garden design. It doesn't, however, offer the firmest of bases for furniture, and it's not the most pleasant to walk on with bare feet.
What paving choice are you making for your patio? Tweet us @goodhomesmag or post a comment on our Facebook page. 
RELATED ARTICLES
Tags: buyer's guide