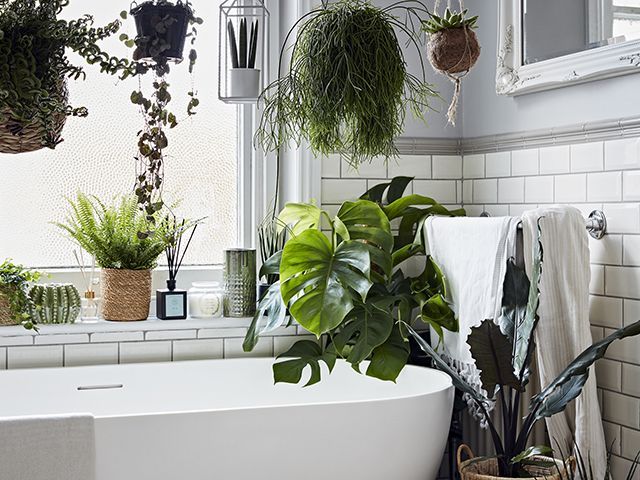 Best house plants for the bathroom
November 15, 2019
If you want to turn your bathroom into a tranquil, inspiring space, it's as easy as filling it with plants. Try these species that thrive best in damp, humid environments. 

Image: Dobbies 
As part of Crown Paints colour trends for 2020, we've been introduced to the concept of Shinrin-yoku – a Japanese philosophy that's centred around the idea of 'forest bathing'.
While the translation isn't meant to be taken quite so literally ('forest bathing' actually refers to the idea of immersing yourself and meditating in a natural space), we can't help but notice a growing trend in interiors towards filling bathrooms with plants to create a restful and restorative space.
However, the bathroom isn't always the kindest environment for some plants, as it can have extreme ranges of moisture and humidity when in use. So, we asked thejoyofplants.co.uk to enlighten us on the best species for thriving in the bathroom and creating our own tropical bathing paradise.
Peace lilies and anthurium 
Image: Thejoyofplants.co.uk 
Anthurium and peace lilies like humid conditions. If you're forgetful when it comes to watering your house plants, these species also store water in their thick, waxy leaves, meaning it can go without a drink for longer.
Ferns 
Image: Thejoyofplants.co.uk 
Frequent bursts of heat and moisture from showering will give ferns the rainforest-like conditions that they thrive in. A bathroom isn't always the lightest, brightest room in the home, but ferns will do well here in spite of low light levels.
Monstera
Image: Thejoyofplants.co.uk 
Another rainforest-loving plant, Monstera (otherwise known as the cheeseplant) is a popular plant trend right now. They enjoy humid conditions, and should only be watered when the soil is bone dry. Monstera do enjoy a brighter spot in the bathroom though to ensure their leaves form best.
Air plants
Image: Thejoyofplants.co.uk 
Air plants don't need manual watering – they secretly drink water from the air. Placing them in the bathroom means they can get a steady supply from the steam and spray from showers and baths.
Spider plants
Image: Thejoyofplants.co.uk 
The spider plant is a popular choice for our homes, as it's a pretty easy-going plant, It doesn't need much light and enjoys moisture in the air. Plus it's great for improving the air quality in your room.
Aloe
Image: Thejoyofplants.co.uk 
Aloe plants are a key ingredient in many of your favourite bathroom products, but they'll also love living in the bathroom. They do well in low light levels and are good at absorbing moisture from the air.
Do you have a botanical bathroom? Tweet us @goodhomesmag or post a comment on our Facebook page. Or, tag us in plant-filled photos on Instagram for a chance to be featured, using the hashtag #ThisGoodHome.
RELATED ARTICLES